Schools' pupil premium for England set at £430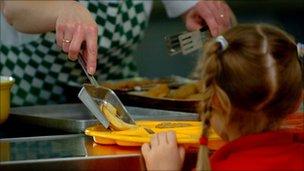 Schools in England will get an extra £430 for each poor pupil they take next year under the government's pupil premium scheme, it has been revealed.
Schools will receive the money for every pupil whose parents have an annual income of less than £16,000.
Head teachers will be encouraged to spend it on reducing class sizes or more one-to-one tuition.
But Shadow Business Secretary John Denham says it is cash already in the budget simply being redistributed.
The pupil premium has long been a flagship Liberal Democrat policy and it had already been announced that it would be worth £2.5bn a year by 2014/15.
But there had been no details how much would be spent in the first year - 2011-12. Now it has been revealed that England's schools will get £625m added to next year's budgets.
Schools will be allowed to choose exactly how the extra money should be used and it is hoped the scheme will also act as a financial incentive to encourage successful schools to take in poorer children.
The Chief Secretary to the Treasury, Danny Alexander, said it was important to focus resources on the most disadvantaged children.
He told BBC One's Andrew Marr Show: "It's [cash] on top of the underlying schools settlement, on top of the flat cash per pupil that schools are getting over the next few years...
"It means that if you are running a school and you have children who receive free school meals then you will get an additional £430 for each of those pupils in the next school year."
But when pressed on the source of the finances, he accepted some of the cash would come from within the existing schools budget agreed in the settlement.
"We have been able to ensure that the schools budget rises in real terms, that is what the settlement does," he said.
"By doing things like freezing the pay of public sector workers, including teachers, we are giving more spending power to schools but we are seeking to focus rises within that on the most disadvantaged children."
But Mr Denham told the show it was just shifting money around that was already there, and about two-thirds of schools were going to see shrinking budgets.
"It's a con, that's the trouble. I mean if it was new money going to the poorest pupils then I'm sure we'd be very pleased about it," he said.
"But this is money that's already in the education budget simply being redistributed, robbing Peter to pay Paul."
Deputy Prime Minister Nick Clegg said the move would have more benefit for social mobility than keeping a cap on tuition fees.
"When money is tight, you have to be really clear about what your priorities are," he said.
"By targeting money directly at our poorest children, the coalition government is starting on the long and hard road to breaking down one of the most socially segregated education systems in the developed world."
The government says the amount per child will rise and more pupils will be covered as the cash allocated to the policy increases in future years. Funds will also be weighted to areas of the country where they are most needed.
However, when the policy was first announced in October, Education Secretary Michael Gove admitted the scheme would lead to a cut in funding for some schools.
Details of the pupil premium will be confirmed on Monday by Mr Gove when he announces the schools settlement.
Related Internet Links
The BBC is not responsible for the content of external sites.