Schools spending 'will not rise in real terms'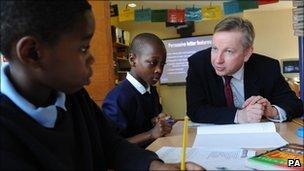 Schools in England will not now see their budgets rise in real terms over the next four years, the government has admitted.
This is because of changes to the official forecast of inflation, it says.
The Chancellor George Osborne announced a 0.1% real terms rise for schools in the spending review. It was described as "his rabbit out of a hat".
It comes as councils prepare for funding cuts.
As part of the settlement, the Department for Education is giving details of its much-vaunted pupil premium, through which funds are being targeted to schools which take poor pupils.
The premium will be worth £430 a year to schools for each pupil they take on free school meals.
But with the revelation that the schools budget will not now rise above above inflation, it is clear the pupil premium is not, in real terms, on top of what schools had before.
Teachers' leaders have already said the package of money targeted to schools with poor pupils this year is so small it is unlikely to have any impact.
Mr Osborne's announcement that schools would see a 0.1% real terms increase in spending over the spending review period shocked commentators, with some describing it as his "rabbit out of a hat".
The Education Secretary, Michael Gove, later described the spending review as representing "a good settlement for schools."
Revealing the change in school fortunes, a Department for Education spokesman said: "Spending totals were based on its best forecast of inflation at the time, produced by independent Office for Budget Responsibility.
"We always knew these were forecasts of inflation and subject to change - undoubtedly these will change again."
He added: "What is not changing is government's commitment to schools. We have not cut the schools budget totals - cash limits remain as announced in Spending Review."
There has also been criticism of the amount set aside for the pupil premium.
NAHT general secretary Russell Hobby labelled it a "damp squib", saying at this level, there will be no implementation and no impact this year.
He added: "Primary schools are going to really struggle to show any impact.
"Everyone would like to narrow the gap between rich and poor pupils - but not on this money."
However, he pointed out that had schools received the pupil premium at the level, £2,500 per pupil per year, planned by the Liberal Democrats who conceived the policy, it would have made a real difference.
"You could afford targeted intervention for children who are falling behind but at this amount the pupil premium simply won't be implemented."
Head of the Association of Schools and College Leaders Brian Lightman said the key issue was whether the pupil premium is new money or being recycled from other areas of school funding.
"If a council's budget is cut it's all part of the same pot and it's not going to make any difference or achieve its aims."
With the scale of cuts expected, schools would end up paying for services they previously got for free, he said.
"The government has been talking about lots of things the pupil premium will be used for that were previous funded by a previous grant, such as out of hours tuition and homework clubs," he added.
He said even at this stage, three months before schools begin the next financial year, it was not clear exactly what was being funded by the newly packaged central grant and what was not.
The ring-fence is being removed from a whole range of previously centrally protected grants, with the funding being chanelled into an overall schools budget.
"That uncertainty is very, very unsettling for schools. We need to be able to plan particularly when were are reducing budgets," he added.
General secretary of the NASUWT teaching union Chris Keates accused the government of attempting to mislead the public.
She said: "When an axe is being taken to education spending right across the board, the pupil premium represents a mere drop in the ocean.
"The coalition government used the pupil premium debate as a smokescreen to deflect from the scale of cuts being proposed.
"The smoke has now cleared and it is evident that the losers will be some of the most vulnerable and disadvantaged children and the schools in some of England's most deprived areas."
National Union of Teachers general secretary Christine Blower said the settlement was not good news for schools.
She said: "We now see that the pupil premium is nothing but a conjurers' trick. The government is simply moving money around the system.
"Not only is it not new money, but its pathetically low level means that the impact will be negligible."
Related Internet Links
The BBC is not responsible for the content of external sites.