Early intervention grant is cut by 11%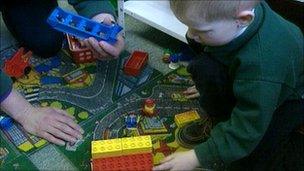 Funding for intervention programmes in England, such as teenage pregnancy and youth crime support, are to be cut.
Next year the government is introducing a new early intervention grant, which will be given to local authorities to distribute as they see fit.
The grant will replace funding to schemes like the Youth Taskforce, the Youth Crime Action Plan, Young People Substance Misuse and Teenage Pregnancy.
But it will be almost 11% less than previous funding streams.
In 2010-11, the total funding to councils to fund these services was £2,483m.
But Education Secretary Michael Gove said in a "tight funding settlement", the new early years intervention grant (EIG) would be worth £2,212m in 2011-12 and £2,297m in 2012-13.
The Department for Education says in 2011-12, the overall amount that will be allocated through EIG will be 10.9% lower than the aggregated funding for 2010-11.
In 2012-13 it will be 7.5% below the 2010-11 figure.
While local authorities will be able to allocate the grant where they see a need, the government expects them to continue to support Sure Start children's centres, free early education places for disadvantaged two-year-olds, short breaks for disabled children, support for vulnerable young people, mental health in schools and support for families with multiple problems.
Mr Gove said: "In a tight funding settlement, some reduction in central government support was inevitable.
"In 2011/12, the amount to be allocated through EIG is 10.9% lower than the aggregated 2010/11 funding through the predecessor grants.
"The new grant will however provide a substantial funding stream, with new flexibility to enable local authorities to act more strategically and target investment early, where it will have the greatest impact."
Labour MP for Nottingham North, Graham Allen, who is leading a review of early intervention, said: "The essence of the grant ties in with the thinking of my review and I hope to announce proposals early in the New Year.
"These will build on both past and previous government's thinking on early intervention and will look at how it needs to develop into the future."
On Tuesday, Mr Gove told the cross-party education select committee that some schools would also face real-term cuts in spending, warning heads of "tough" times ahead.
He told MPs a number of institutions would be forced to accept budget reductions unless the economic forecast improved.
He suggested it would be down to local authorities to decide which schools bore the brunt, adding that they were being given "significant responsibility" under coalition plans.
Mr Gove also defended the abolition of the Education Maintenance Allowance (EMA), arguing that it was not the most effective way of assisting less privileged children.
Currently students aged 16 to 18 can apply for an allowance of up to £30 a week to help with outgoings.
But under government plans, this will be replaced with a discretionary learning support fund, through which money can be delivered to disadvantaged students through their college.
Related Internet Links
The BBC is not responsible for the content of external sites.