Publishing giant Pearson looks set to offer degrees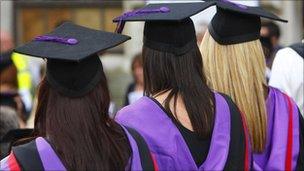 One of the world's largest publishers, Pearson, looks set to be given degree-awarding powers, as the government seeks to open up the university sector to more private providers.
Pearson, which owns exam board Edexcel, plans to start by offering four vocational degrees with a further education college.
But it wants to award degrees itself, which would require a law change.
The government says it is considering this.
Universities Minister David Willetts has made no secret of his plans to open up the university sector to private providers.
A white paper is expected to set out plans to do this in the new year, with legislation likely to follow.
Mr Willetts is said to be encouraged that firms like Pearson are interested in taking a bigger role in higher education.
He is expected to mention the firm by name in a speech to an education conference in central London later.
If Pearson, which publishes a wide range of text books, succeeds in gaining degree-awarding powers it will be the second for-profit company involved in England's higher education system.
The development comes less than a week after MPs voted to allow universities to raise tuition fees to a maximum of £9,000 a year.
This sparked fears that many youngsters from deprived backgrounds would not be prepared to take on the accompanying higher level of debt, although ministers insist a revamped repayment system is fairer.
Pearson anticipates it will be able to offer degree courses in business, engineering, IT and health and social care to begin with at "very competitive" prices.
It is also considering offering degrees in nursing, education and hospitality and tourism.
A Pearson spokesman said the courses would be highly flexible, available part-time and might suit those already working or those with children.
Rod Bristow, president of Pearson UK, said his firm had a strong track record of providing high quality vocational education in the UK through BTECs and HNDs.
"Now we want to take the next natural step to award full degrees."
He said the firm would create a vocational degree, based on the vocational BTEC qualification, and that it would demand students met rigorous standards.
Mr Bristow added: "Part of our commitment to this is to ensure that the BTEC degree is offered at a price which falls well within the current funding ceilings.
"This combined with local access, will keep the cost of high quality higher education to a level acceptable to the majority."
Mr Willetts said: "There will be a new rung on the ladder of opportunity. Further education colleges, universities and other training providers will be able to offer this tried-and-tested qualification at a higher level for the first time.
"Students, employers and the economy all stand to benefit.
"In the forthcoming higher education white paper, we want to make it easier to award new high-quality and affordable degrees like BTECs. This is the key to extending opportunity, improving social mobility and raising skills."
Currently only universities and colleges applying for degree-awarding powers can offer degrees.
But 262 colleges in England work with validating partners, usually universities, to offer higher education courses including BA degrees and foundation degrees.
It is expected that new legislation will relax the rules on who can take up that validating role. This may be where firms like Pearson come in.
The Association of Colleges chief executive Martin Doel said: "We are interested in proposals, from Pearson or others, that may help more colleges deliver more high quality, affordable and flexible higher education to more students."
Sally Hunt, general secretary of the UCU lecturers' union, said further encouraging the growth of for-profit companies would damage the UK's academic reputation and raise questions over standards.
"These companies are clearly seeing an opportunity for growth following the disastrous decision to treble tuition fees and the government has said that it wants to encourage this.
"We believe that the pursuit of profit is incompatible with the maintenance of high standards in higher education and we think this is confirmed by the situation in the US, where private providers are being investigated by Congress following a series of high-profile scandals," she added.
Related Internet Links
The BBC is not responsible for the content of external sites.