University admissions 'too confusing', says regulator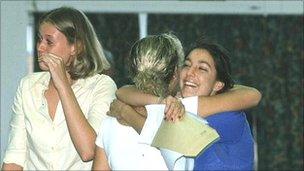 Too many teenagers are left confused by the process of applying to university, the exams regulator says.
Ofqual said students were not "clairvoyants" and needed clear information about what A-levels they should study for university courses.
The regulator said many teenagers were left guessing how to increase their chances of securing a degree place.
It called on universities to send clear and helpful messages to potential applicants.
In the regulator's annual report, Ofqual chief executive Isabel Nisbet said students needed to be helped to make informed decisions.
"It should not be the case that the applicants with the best advice and guidance have a competitive edge. It should be possible for all students to understand admission requirements without an expert decoding them," she said.
"We are therefore calling on the higher education sector to redouble its work to send clear and helpful messages to potential applicants."
Ms Nisbet said teenagers choosing what to study at GCSE and A-level risked unwittingly losing out in the eyes of higher education institutions which did not rate certain subjects such as business studies, drama and law, for example.
Dr Wendy Piatt, director general of the Russell Group, which represents top universities, said these universities did try to give applicants as much information as possible.
"University websites typically include details on 'essential' and 'preferred' A-levels to help students maximise their chances of gaining entry to competitive degree courses.
"Students would be well advised to take very careful note of such requirements for their desired degree courses before picking supplementary A-levels."
Dr Piatt said competition for certain subjects at top universities was fierce.
"Students must not disadvantage themselves by choosing a combination of subjects at A-level which will not equip them as well as other subjects to excel on their chosen course, or which do not demonstrate as effectively as others their aptitude for a particular subject."
Related Internet Links
The BBC is not responsible for the content of external sites.