EMA study allowance 'is cost effective', say economists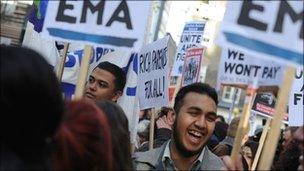 A grant to encourage teenagers in England to stay in education after the age of 16 is cost-effective, economists have said.
The government says the education maintenance allowance (EMA) is not cost-effective and is scrapping the £30 weekly allowance payments next year.
But a report by the Institute for Fiscal Studies (IFS) says its cost is "completely offset" by its benefits.
The EMA is claimed by some 600,000 youngsters from poorer families.
The report by the IFS found EMA increased the proportion of young people who stay on from 65% to 69% among 16-year-olds and from 54% to 61% among 17-year-olds.
The research found that in areas where EMA was available, students had A-level grades averaging four points higher than would otherwise be reached and were 2% more likely to reach thresholds on the National Qualifications Framework.
The think-tank's conclusions challenge the government's justification for scrapping the grant on the grounds that the majority of those receiving the payments would have continued to study anyway.
Ministers argue that only 12% of those receiving EMA say they would have left education if the cash was not available, creating a "deadweight" cost of paying 88% of them to do something they were planning to do anyway.
The IFS report said: "The question is: to what extent does the wasted spending on those whose behaviour was unaffected offset the beneficial effect of the spending on those whose behaviour was affected?
"The simple cost-benefit analysis mentioned above suggests that even taking into account the level of deadweight that was found, the costs of EMA are completely offset."
The programme may have other benefits, the report went on.
"Those who receive EMA and would have stayed in education regardless of it might still benefit educationally through other channels, for example through better attendance, or more study time as a result of not having to take on a part-time job.
"Moreover, even if the EMA had no impact on educational outcomes, it would still represent a transfer of resources to low-income households with children, which may in its own right represent a valuable policy objective."
A spokesman for the Department for Education said: "This research doesn't dispute the fact that around 90% of pupils receiving the EMA would go to college or sixth form even if it didn't exist and entirely justifies our decision to better target resources on those who really need them.
"In these tough economic times, we simply do not have the luxury of being able spend hundreds of millions on a programme that doesn't see results in return for the majority of the money spent."
Shadow education secretary Andy Burnham said: "The IFS have confirmed that EMA is a bargain, an investment that we see returned over a lifetime.
"But instead of investing in our young people to help them get on in life, the government has chosen to kick away the ladder."
In Scotland, where ministers have protected EMA, statistics show more than a third of teenagers - 37,000 - receive the grant.
Education Secretary Michael Russell said a quarter of recipients lived in one of Scotland's 15% most deprived areas.
Mr Russell said: "By continuing to invest in EMAs we are ensuring that young people from the most disadvantaged backgrounds have the opportunity to improve their life chances by staying on in learning.
"More young people have stayed in learning as a result of the recession and it is the EMA that has enabled them to do so."
Related Internet Links
The BBC is not responsible for the content of external sites.