Poorest pupils '55 times less likely to go to Oxbridge'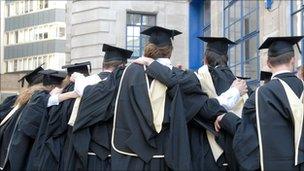 Pupils on free school meals are 55 times less likely to go to Cambridge or Oxford than those from private schools, the Sutton Trust has said.
The charity said it feared rising fees and the axing of a support programme would make it harder for poor students to get into England's top universities.
It also raised concerns about proposed measures to widen participation.
The government said closing the gap was a key priority, which it was tackling with "radical measures".
The Sutton Trust has the percentages of pupils who qualified for free lunches when they were at school - a measure of deprivation - attending each of England's universities.
The proportion was 0.8% at both Oxford and Cambridge, while more than 40% of their students came from independent schools.
And in general, pupils from private schools were 22 times more likely to go to a top university than those who had been on free school meals, the Trust said.
The Trust said the greatest factor determining how many poorer students go to university is the fact that so few of them get the grades they need - something many top institutions also point out.
However, the Trust said that some highly selective universities, particularly in urban areas, such as Kings College London (5.3%) and the London School of Economics (4%), had a higher proportion of free school meals students than some less selective institutions, for example Portsmouth (3%), Lincoln (3%) and Oxford Brookes (1.7%) universities.
The universities with the most students who had been eligible for free school meals were urban, less selective institutions including London South Bank University (24.7%) and the University of East London (23.1%).
From 2012, universities will be able to charge up to £9,000 a year tuition fees.
These will be paid up-front by the government as a loan, which graduates will then begin to repay once their earnings reach £21,000.
Ministers have outlined plans under which the government would pay the first year's tuition fees for students eligible for free school meals.
Universities wanting to charge tuition fees of more than £6,000 a year would then have to fund the student's second year.
But the Sutton Trust said it was concerned that this would have "little impact on the country's most prestigious universities outside the country's major urban areas", because of the low numbers of the poorest students attending them.
It also said it feared that if universities were required to provide a contribution for such students, the least well-funded universities would be hit the hardest, as they often take more disadvantaged students.
The figures also show a significant gap between the most privileged pupils and the rest - many of whom will be children from middle income households, the Sutton Trust said.
It said that fair access for both low and middle-income students should remain a focus.
The report also raised concerns about the coalition's decision to scrap AimHigher, a government body which runs programmes to encourage young people from disadvantaged backgrounds into higher education.
Instead, universities will be expected to fund such activities themselves.
"The prospects for less privileged students getting into top universities will get more difficult with the almost tripling of tuition fees, and the ending of the Aimhigher scheme," said Sir Peter Lampl, Chairman of the Sutton Trust.
"Together these reforms amount to a completely new and uncertain landscape for university access for less privileged students."
The Trust said that sanctions on universities failing to make sufficient progress on access should have "real teeth".
Oxford and Cambridge Universities both cited research showing that of 176 students on free school meals who got three As at A-level in 2007, 45 went to Oxford or Cambridge.
Oxford said it had one of the most extensive outreach programmes in the country, while Cambridge said it remained committed to engaging with disadvantaged groups.
The Russell Group of research-intensive universities said it invested millions of pounds in bursaries and other initiatives designed to help the least advantaged students have the best possible chance of winning a place.
It said the new fee regime was "fair and progressive in protecting low earners" and noted that participation from all socio-economic groups had increased since fees were raised in 2006.
But the Million+ group representing new universities echoed concerns that institutions with larger numbers of disadvantaged students would be hit by the requirement to fund their second year fees.
"Universities which currently achieve the most in terms of social mobility... will lose out financially and will have no alternative but to charge higher fees from all students to deliver the match-funding," said its chief executive, Pam Tatlow.
The Department for Education said narrowing the attainment gap was a "key priority", which it was tackling with "radical measures" including introducing a pupil premium targeted at the children from the poorest backgrounds.
The Department for Business, Innovation and Skills said its goal was that no-one should be put off higher education on financial grounds.
"All graduates will pay back less per month than now and the poorest 25% of graduates will pay back less in total," a spokesperson said.
A new £150m National Scholarship Programme would tackle the sorts of problems identified by the Sutton Trust, the spokesperson added.
Related Internet Links
The BBC is not responsible for the content of external sites.