Head teacher's New Year honour for helping teenage mothers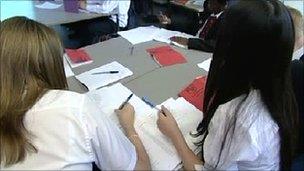 The founder of a school for teenage mothers is among those given New Year Honours for services to education.
Julie Stamper is rewarded for her role in the Schoolgirl Mums' Unit in Hull, which has helped hundreds of young mothers continue their education.
Head teachers, academics, governors and lollipop men and women received awards.
London head Susan John, Merseyside college principal Patricia Bacon and Cambridge professor Caroline Humphrey become dames.
About one in 10 of those on the New Year's list is being honoured for services to education.
Seven school governors and three lollipop men and women are made MBEs.
Mrs Stamper's MBE for her role in the Schoolgirl Mums' Unit in Hull rewards her work going back to her setting up the facility in 1989. She is currently its head teacher.
It has space for 35 pupils, who attend while pregnant and after they have had their babies. There is a baby unit on the same site.
The latest report by the England schools' watchdog, Ofsted, rates the unit as outstanding in terms of education, care and support for students, and praises Mrs Stamper's leadership.
It says: "The unit has a transformational effect in engaging vulnerable students in learning and building their confidence during what is for many an emotional and difficult period in their lives as they have their babies".
Most pupils come from disadvantaged areas and arrive with below-average attainment, but make good or outstanding progress, the report says.
The list of education CBEs includes Howard Goodall, the award-winning composer and broadcaster, for his work of the past five years in promoting music education in England.
In total, 15 head teachers, and 14 school and college principals are honoured, the government says.
One of the highest awards for services to education goes to Susan John, head of Lampton School in Hounslow, west London, who has been made a dame.
The secondary school featured in a list drawn up by Ofsted inspectors in 2009 of schools which are outstanding and are "excelling against the odds".
Mrs John's leadership of the school was praised in the school's latest Ofsted report.
She was described as "an inspirational head teacher who systematically searches for and implements strategies to develop people, eliminate under-performance and do the best for the students".
The school has a high proportion of children on free school meals.
It is due to switch to become an academy, meaning it will become directly-funded by central government and have more independence.
Also made a dame in the New Year Honours is Caroline Humphrey, professor of collaborative anthropology at the University of Cambridge.
She has carried out research on Siberia and Mongolia in the Soviet and post-Soviet periods.
And Patricia Bacon, the principal of St Helens College, Merseyside, has also been made a dame.
The college has about 15,000 students on more than 600 different courses - which include both further and higher education programmes.
It has partnerships with a number of universities.
Related Internet Links
The BBC is not responsible for the content of external sites.