Private school test goes online to ease stress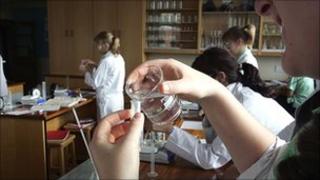 An independent school entrance examination is to be put online to make it less stressful for pupils.
The Common Entrance exam is taken by children applying to private secondary schools at age 11 and 13.
Critics say it pressurises pupils with a week of intense examinations and overloads the school syllabus.
Now the Independent Association of Prep Schools (IAPS) says a series of online tests will ease stress, allowing pupils to sit the exam at their own school.
Pupils are entered for Common Entrance if they have been offered a place at an independent school on condition of passing it.
All candidates take the exam in English, maths and science, and at age 13+ they can also take French, geography, German, Spanish, Greek, history, Latin and religious studies.
Schools choose which options they require from pupils, which means children applying to more than one school could have to sit several different subjects.
Despite criticisms of the test, supporters say the exam makes up the backbone of the curriculum for the first two years of secondary school, prepares pupils for future GCSEs and A-levels and is perceived to be academically rigorous, particularly by parents.
'Ease the burden'
IAPS chief executive David Hanson said a team of heads had been working with the association to develop a series of online tests.
Mr Hanson said: "These tests can be done online, in the child's school, which we hope will not only help them to feel more at ease, but also free up time during senior school visits so pupils can really get to know their chosen new school."
Mr Hanson said the exam had many strengths, but needed revising.
"Other examination systems have come and gone, but Common Entrance has remained because it has great qualities.
"What we need to do now is to build on those qualities and make best use of new technology to ease the burden of examinations on young pupils."