GCSEs should be scrapped, Estelle Morris says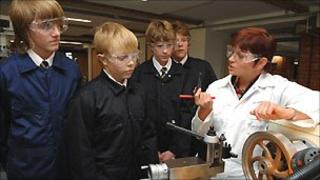 GCSEs should be scrapped and replaced with new tests for 14-year-olds, says ex-Education Secretary Estelle Morris.
The exams, which are taken by 16-year-olds, are out of date now the school-leaving age is being raised to 18, the Labour former minister says.
Baroness Morris says pupils should pick academic and vocational routes at 14.
The government wants to open a string of university technical colleges to boost vocational education for 14 to 19-year-olds in England.
Speaking at the North of England education conference in Blackpool, Baroness Morris said GCSEs were unnecessary.
"It's been one of our objectives to get children to stay in education beyond 15 so why are will still running a school-leaving exam at the age of 16?" she said.
From 2015, the age at which students can leave school or training will be raised to 18.
'Not selection'
The Labour peer - who was education secretary between 2001 and 2002 - said the national curriculum should end at 14, rather than at 16 as it does now.
Pupils should take tests at 14 in a wide range of subjects which should be marked externally, she said, adding however, that they should not be used to select pupils on ability.
"I wouldn't like it to be something like you have to get a B in order to go and then do an academic pathway," she said.
"If you get five Fs you should still be able to do an academic pathway if that's what you want. It's not about selection its about a mark of progress and how far you've gone."
There have been other recent calls for the abolition of GCSEs.
The new president of the Girls Schools Association, Helen Wright, said the exams had run their course.
Dr Wright, headmistress of the independent school St Mary's Calne, said: "On one level we are raising the school leaving age to 18, why do we need to focus on the age of 16? Why shouldn't we be looking at children earlier or later?"
And a report for the Sutton Trust educational charity in the autumn said GCSEs should be taken at 14, with pupils opting for academic or vocational courses afterwards.
Report authors Professor Alan Smithers and Pamela Robinson of the University of Buckingham said in the present system, selection was "fudged".
This meant there were no clear pathways in the later years of schooling, particularly in terms of technical and work-based training.
University Technical Colleges
The coalition government is planning to open a string of university technical colleges which students would join at the age of 14.
The colleges will offer full-time courses which combine practical and academic studies and develop high level technical skills, ministers say.
Lord Baker, who chairs the trust which is developing the colleges, says there will be 15 to 20 of them by 2012, with the numbers eventually likely to rise to 40.
Teaching unions have criticised the plan, saying it will lead to a two-tier secondary school system and force teenagers to make important career choices at too young age an age.