Fifth of secondaries 'in the red'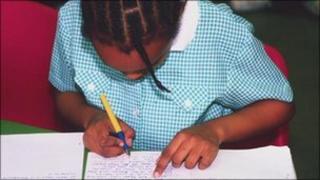 Almost a fifth of secondary schools were in deficit at the end of last year, official figures released by the Department for Education suggest.
Some 1,968 schools showed a deficit in 2010 - with the average deficit per school topping £82,000.
Head teachers said the figures showed that schools were already being hit by funding cuts.
The statistics also suggest that a quarter of schools are continuing to hold on to too much taxpayers' money.
Budget cuts
An excessive balance is defined as more than 8% of a primary school budget or more than 5% of a secondary school budget.
But overall there has been a small drop in the number of schools holding onto extra cash.
The figures are released as councils are working out how much schools will get to spend next year.
Association of School and College Leaders general secretary Brian Lightman said the inequalities in the current funding system have led to the weak financial position many schools now find themselves in.
"With all schools facing real terms budget cuts from April 2011, I have no doubt that education provision will be affected.
"For some schools these cuts will be nearly 5% in real terms. This will lead to increased class sizes, reduced curriculum choice and a reduction in teaching materials including ICT.
"Schools will make every effort to minimise the direct impact on young people's education but these cuts are bound to have a negative impact on all students."
A Department for Education spokesman said the figures related to the financial year 2009-10 when the previous government was in power.
He said: "Every school should be working continuously to improve its financial management, including effective budget planning, to ensure it continues to deliver effectively for its pupils."
He added that it would be reviewing guidance on what level of balances would be deemed excessive.