University fee plan for poorer students 'not workable'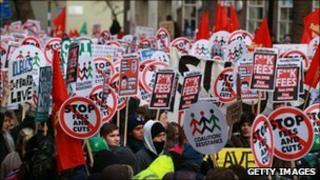 Government plans for poorer students to get two years' university tuition free of charge will "not be workable" across the board, the BBC has been told.
Ministers proposed that students from disadvantaged backgrounds could have one year paid by the state, matched by another from their university.
Universities UK chief executive Nicola Dandridge said such a scheme would hit some institutions harder than others.
MPs have voted to raise tuition fees in England to up to £9,000 a year.
'Difficult and counterproductive'
Three days before MPs decided on the government's controversial plans, ministers announced they were looking to use a £150m fund to provide a year's free tuition for poorer students.
This would then be matched by the university to provide another year's study free of charge.
The proposal was thought to have helped persuade some Lib Dem MPs to support the government.
The Lib Dems came under intense pressure from students after promising to abolish tuition fees in their election manifesto, before forming the coalition.
Ms Dandridge said in practice the government's proposals would be "difficult and counterproductive".
Poorer students were concentrated in the new universities which would find themselves having to pay out millions of pounds to provide free tuition, she said.
School meals
Cash for the new fund - set aside for pupils who were eligible for free schools meals - would come from the National Scholarship Programme already announced.
Under the plans, universities charging more than £6,000 a year could be forced to pay such students' fees for a second year.
Ministers believe up to 18,000 students could ultimately benefit, significantly increasing the numbers of children from poorer backgrounds going on to higher education.
Free school meals are available to families claiming certain benefits and are given to around 80,000 pupils in each school year.
The Department for Business, Innovation and Skills said plans to help poorer students were still being developed.
Shadow Business Secretary John Denham said the government's scheme was falling apart.