First green light for community's free school plan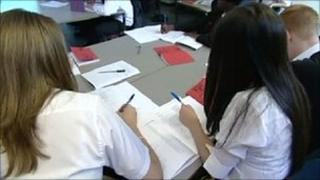 A community-led group in Suffolk has become the first in England to get formal approval for their plans to open a new "free" school.
Education Secretary Michael Gove has approved plans for the Stour Valley Community School in Clare, Suffolk.
The group hopes to open its secondary school in September 2011, with 210 places for the first three year-groups.
A free school is an independently run - but state-funded - organisation set up by parents or other community groups.
The approval follows a four-year campaign for a secondary school on the site of Clare Middle School, due to close in July.
Suffolk County Council is currently reorganising its schools, changing from a structure which includes junior, middle and upper schools, to one with just primary and secondaries.
This means pupils living in and around the village of Clare would have to travel 10 miles (16km) to large 1,200-pupil secondary schools, parents say.
'Fantastic news'
Many parents and members of the village community were unhappy with this.
Chairman of the Stour Valley Educational Trust Keith Vaisman said: "For us the policy of independent state schools came at the right time."
The group drew up its plans for a free school last year and on the day before the general election presented a 200-page document of its plans to Mr Gove's office.
This was to ensure they would be first in line for approval if his party was elected and the free school policy advanced, said Mr Vaisman.
Head teacher designate Christine Inchley said: "This is fantastic news for the wider Clare community.
"The school will provide a new standard for 11 to 16-year-old students from both sides of the Suffolk-Essex border."
The school hopes to accommodate 540 pupils on the modified site of Clare Middle School by 2015.
Local authorities have responsibility for running admissions to local schools but deadlines for applications have now passed.
However, parents interested in sending their pupils to the Stour Valley Community School were allowed to express an interest along with their application forms.
The trust is now seeking to feed into both Suffolk and Essex 2011 admissions and will hold a meeting for prospective parents on January 25.
It still has to hold a consultation with the local community and sign a contract with the Secretary of State so that start-up funding can be released.