Closure threat to '250 children's centres'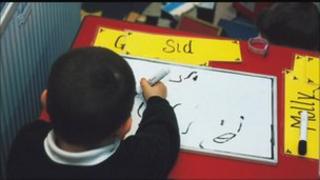 Some 250 Sure Start children's centres in England could close within a year while many more face budget cuts, two charities have claimed.
A survey of 3,500 centre managers for Daycare Trust and 4Children found more than half of the 900 who responded were expecting to run reduced services.
And about 7%, or 58, said they expected to be shut within a year.
Children's minister Sarah Teather said there was enough money available to maintain existing children's centres.
She added that the new Early Intervention Grant gave local authorities the freedom to make the best decisions for the families in their areas.
But the level of this grant is 11% lower than the equivalent funding for the previous year.
And the protection around children's centre funding has been removed in a shake-up of budgets.
The two charities sent their survey to all 3,500 children's centre managers in England. A total of 917 replied between 20 and 25 January.
They were asked about expected budgets, redundancies and the impact on the centres, set up under Labour to help families with parenting and childcare.
Of those who had an indication of what their budgets for 2011-12 would be, 86% said they were expecting reductions.
The charities said if the findings of the survey were replicated across all centres in England, it would lead to about 250 closures and 2,000 providing a reduced service.
'Hard choices'
It comes after the BBC News website reported claims that at least one children's centre was likely to close in every local authority area in England.
Anne Longfield, chief executive of 4Children, said: "Families across the country, particularly the most vulnerable, depend on Sure Start Children's Centres to help get their children off to the best start in life.
"We know that local authorities have some extremely difficult spending decisions to make but investment now will lead to real savings in the long term.
"Local authorities need to find new ways to ensure Sure Start Children's Centres earn their keep by allowing them to become genuine hubs for all children and families services in communities, reducing replication and improving impacts.
"Voluntary and community organisations stand ready to help councils find innovative solutions to these funding dilemmas."
Acting chief executive of the Daycare Trust Anand Shukla said: "Behind every Children's Centre facing closure is a community of families devastated at losing one of their most valued local services.
"The tragedy of these cuts is that the full extent of Sure Start's impact on children's development will only be achieved in the long term, and the impending closure of so many centres means this investment will not now be fully realised."
'Legal duty'
Ms Teather said she understood that local authorities were facing difficult decisions which required local discussion and hard choices.
"Many areas haven't yet made final decisions, but what's important is that communities have access to services that support children and families, particularly the most disadvantaged," she said.
"We know high quality early years support can have a lasting impact on children's lives, and local authorities should be continuing to channel resources to those who will benefit most from the excellent support children's centres can offer."
She added that local authorities had a legal duty to provide sufficient children's centre provision to meet local need and must consult before closing or changing children's centres.
Shadow Education Secretary Andy Burnham said Sure Start was widely recognised as a highly valuable service and that Prime Minister David Cameron had promised to protect it and build on it.
He added: "By standing by while cash-strapped local authorities are forced to make cuts and closures to the children's centre network, the Tory-led government are stacking the odds even further against aspirational families who want to get on in life."
Helen Donohoe, director of public policy at children's charity Action for Children said children and young people should not be made to "bear the human cost of the country's deficit".
"It is a financial own-goal to ignore the fact that the earlier expert help is given, the more likely it is to work.
"We know that our staff can help prevent many children Sure Start is designed to help from suffering the same fate as their parents and grandparents.
She added that Action for Children was working with local authorities to find better value for money solutions, like offering services in libraries and other public
buildings.