New schools 'should be academies' says Michael Gove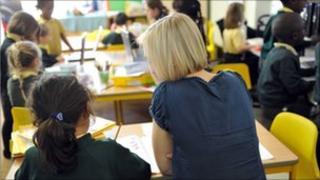 The Education Secretary Michael Gove has said all new schools in England should ideally be academies or free schools.
These are state-funded, but semi-independent schools.
Population increases in parts of England, especially London and the west Midlands, mean more schools are needed.
Mr Gove said if councils think a new school is needed, the "first choice" should be a free school or academy proposal.
This has now been put in to the Education Bill which was published yesterday, meaning councils will have to follow this approach, rather than setting up their own schools.
The government announced on Friday that a total of 249 groups - including parents, teachers and charities - have now come forward with proposals to set up free schools.
Thirty-five groups have gone to the next stage of the process and are developing a full business case and a plan.
Several are expected to open in September.
School shortage
Representatives of many of the groups will be in London for a conference on Saturday, where they will meet Mr Gove and some of the figures behind the charter schools movement in the United States.
An Academies Act, passed in the summer, paved the way for groups of parents, teachers and charities to set up their own "free schools", and for the expansion of the academies programme, under which schools are being encouraged to "opt out" of local authority control.
The government says such schools will drive up standards by putting more power in the hands of head teachers.
The new Bill says that if local authorities believe there is a need for a new school in their area, they "must seek proposals for the establishment of an academy".
Free schools are also academies - schools directly funded by central government, which stand outside of local authority control.
The changes also allow special schools and Pupil Referral Units (PRUs) to become academies and set out the conditions for faith schools to take on this status.
Mr Gove was speaking at the King Solomon Academy in London which is run by the Ark foundation.
Asked about the duty being put on councils planning for new schools in their areas, Mr Gove said: "That would be the first choice I would like local authorities to make, that they should be free schools or academies".
He said there was a need for schools, particularly primary schools in some areas, including London, east Lancashire, west Yorkshire and the midlands.
"My view is we should encourage innovation and choice by ensuring that as many of these schools as possible are academies or free schools."
Teaching unions are strongly opposed to the schools. They say they will divide schools and fracture the school system. Academies and free schools do not have to follow national guidelines on teachers' pay and conditions.
Capital punishment
Mr Gove was shown around the King Solomon Academy with US visitors Joel Klein, the former chancellor of New York City Department of Education, and Josephine Baker, executive director of the District of Colombia Public Charter School Board in Washington.
They were asked about lessons they had learned.
Ms Baker said the application process should be robust.
"An idea might sound wonderful, but you have to look behind it to see in the long term how will it be for children - will they be able to learn to read and write?" she said.
Not all charter schools had been a success, she said, and the accountability system behind such schools was all-important.
Applications were approved through a system, she said, to make sure they were viable and sound, "but that does not assure success".
"We do apply considerable oversight to these schools. They are not all successful but we are increasing our accountability systems.
"We do close them if they are not meeting the standards that are set in their charter."
Mr Klein said one of the lessons he had learned was that there was a need for "reasonable processes" to be in place to terminate the employment of under-performing teachers.
"Every child is entitled to a good teacher," he said.
"It's easier to prosecute a capital punishment case in the US than terminate an incompetent teacher."
Mr Gove said the King Solomon Academy, which is an "all-through school" for children from three to 18, was an example of what academies could achieve.
During his walk around the school, he had asked a class of young teenagers how many of them wanted to go to university - and every hand had been raised. One girl told him she wanted to be an oncologist.
"What is striking about this school is that it uses fully the freedoms that academies bring, but also has high standards," he said afterwards.
"We are in an under-privileged part of west London but also close to much privilege - and children here want to be oncologists."