School music funding aims to reach less well-off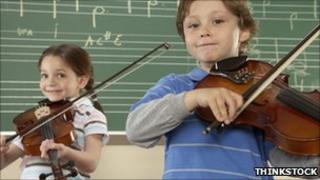 The government says funding for music in England's schools will increasingly be targeted at the less well-off in a bid to close a "musical divide between rich and poor".
Responding to a review of school music, the government announced plans to bring more music graduates into teaching.
A National Plan for Music Education has also been promised for later this year.
School music funding will remain at £82.5m for next year - the same amount as funded through councils this year.
Following this transitional year, the education department says it will work with music services "to manage future budget pressures".
The review was led by Darren Henley, managing director of Classic FM.
He was asked to look at how public funding could be used to give every child the opportunity to learn an instrument and to sing.
He was also looking at how to improve classroom teachers' skills and confidence in giving music lessons.
The Education Secretary Michael Gove had said it was a "sad fact" that many state school children did not have the chance to learn an instrument.
The government says it will keep its school music budget for 2011-2012 at the present level of £82.5m next year.
The shape of music education after this will be determined by a forthcoming National Plan for Music Education.
There have been fears about public spending cuts damaging music education.
Many schools arrange music lessons and instrument hire for children through local bodies called "music services" run by councils and some of those have said they fear cuts or even closure.
The music services are funded through local authorities, central government grants and parental contributions.
Councils in England are facing a budget cut of about 25% over the next four years.
The musicians' professional body, the Incorporated Society of Musicians (ISM), recently accused some councils of going 'too far, too soon" by cutting budgets for children's music lessons, before details of national funding had been revealed.
That was echoed by the the Federation of Music Services (FMS), which said a handful of councils were publicly proposing "pre-emptive cuts" as part of wider cost savings, which could "irreparably undermine" services.
On future funding, the government has said it will work with local authorities and schools inspectors Ofsted to "ensure the most disadvantaged children are targeted".
Also, it is to launch a scheme called "Music Teach First", through which it aims to recruit musicians from leading music schools to go to teach in "the nation's most challenging schools".
And it says it wants to make it easier for leading orchestras and musicians to help improve music education in schools.
Education Secretary Michael Gove said: "Music has the power to touch the soul. It is a universal language understood by people of every culture. And it gives us all the chance to be transported by beauty.
"But access to the best musical education is not universal and the opportunity to benefit from great instrumental tuition is not shared equally.
"Many disadvantaged children are denied the music education they deserve. And that's why we need to bridge this musical divide."