School music services face budget cuts of up to 10%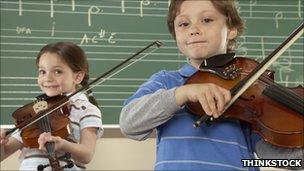 Local councils in England could see cuts of up to 10% to their music services budgets when school music funding is shaken up next year.
The government has frozen the £82.5m music grant for 2011, paid to councils to support music teaching in schools.
Funding is not guaranteed beyond that, and a new funding formula which ministers say is "fairer" is planned from 2012.
The government said there were lots of funding anomalies in the system.
The announcement was made as an official report on music in schools was published on Monday.
Managing director of Classic FM Darren Henley was asked to review the provision of music services in schools, with a remit to help improve musical opportunities for young people.
Education Secretary Michael Gove said he wanted to ensure that all children, not just the wealthy, had access to quality music education.
This was why he was maintaining the music grant in cash terms this year ahead of the coming shake-up, he said.
The money would be earmarked for school music to ensure it reached the front line.
"We want to make sure that the money will be helping music services for the next 12 months," he said.
But he acknowledged there were "no guarantees" on funding beyond the end of 2011.
A national funding formula for music will be put in place from 2012, and a new national plan for music education is to be drawn up in the coming year.
But a statement published alongside the review said: "We will then work with music services over the next year to manage future budget pressures."
It added: "The government will also start the move towards a national formula for music education funding this year but we will ensure that no local authority loses more than 10% of its central funding in this year."
A spokesman for the Department for Education said the current system was opaque and built on historical calculations that have remained largely unchanged for 10 years.
"That is not the best way to ensure money is spent fairly. The new formula will ensure money is given to music services in a fair, open and transparent way, and ensure that money reaches the areas with higher numbers of children from lower income homes," he said.
The Federation of Music Services said they had been campaigning for a fairer allocation of funds and that some music services would be gaining funds in the shake-up.
Mr Gove stressed the decision to protect music funding this year when there were pressures on budgets elsewhere showed the government was committed to music in schools.
He said: "Music has the power to touch the soul. It is a universal language understood by people of every culture. And it gives us all the chance to be transported by beauty.
"But access to the best musical education is not universal and the opportunity to benefit from great instrumental tuition is not shared equally."
Mr Gove also announced plans for scheme to get more music professionals teaching in schools.
A scheme based on the much-praised TeachFirst programme, which sees high-flying graduates fast-tracked to become teachers at challenging schools, would be set up for music teachers.
It would be run by the charity Teach First, which currently has 12 music teachers in schools in England.
But a spokesman said it was keen to work with the Department for Education on recruiting more.
The review is published at a time when many music services around the country are already facing budget cuts because of local authorities' attempts to claw back savings.
Overall, councils face cuts of 25% over the next four years.
Musicians' bodies have raised concerns about this and have lobbied for the music grant to keep the budgetary protection that was introduced by a previous Labour government to stop schools spending the money on items like leaky roofs.
At the same time, the £10m National Instrument Fund, which paid for the purchase and maintenance of musical instruments, is not being continued.
And there are budget cuts to the £1m In Harmony scheme, which is a community development programme aimed at bringing positive change to the lives of young children in deprived areas.
However, chief executive of the Federation of Music Services Virginia Haworth-Galt said: "We welcome the news that music services will receive the same level of funding from the government and urge all local authorities to continue their financial support too."
She added: "By backing the report's recommendation for a national plan for music education, the government has also shown its commitment to work with us, schools and all music educators to make Darren Henley's vision a reality - to provide all children with the music education they deserve."
Director of the Association of British Orchestras Mark Pemberton said: "The proposed national plan for music education must urgently identify how adequate resources will be found to deliver the quality of music education envisaged by Henley.
"We look forward to hearing about future funding allocations from 2012 and beyond."
The Incorporated Society of Musicians welcomed the continued funding for music services in 2011-12, but added: "We need to make sure that funding after 2012 is both at an appropriate level to sustain a quality music education and is properly structured so that we tackle the inequalities between different areas of the country."
General secretary of the National Union of Teachers said there was no point "pontificating" about the benefits of music if it was not funded properly.
She added: "With inflation running at near 5% the freezing of the funding does not 'protect' music services as the government claims.
"This is a real terms cut which will be compounded by the possibility of LA's losing up to 10% of their music budgets as the government moves towards a national funding formula."
Related Internet Links
The BBC is not responsible for the content of external sites.