Cambridge 'planning to raise fees to £9,000'
By Sean Coughlan
BBC News education correspondent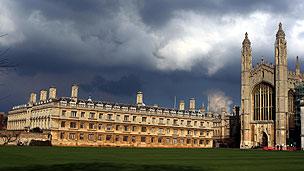 Cambridge University is considering plans to charge tuition fees of £9,000, with means-tested support for poorer students, the BBC News website has learned.
Proposals from its working group show the university has plans to set fees at the maximum level of £9,000 a year for every subject.
Poorer students would be offered means-tested reductions of up to £3,000.
Cambridge said the report would help it decide on fees and student support.
The university's students' union has warned that raising fees must not put off poorer applicants.
The proposals have been submitted to the university's council for a final decision.
The group set up to consider the level of fees is strongly recommending that a single flat-rate should be charged for all courses and colleges from 2012.
A Cambridge University spokesman said: "The report and consultation will help the university's council decide what arrangements it wishes to propose for the fees, financial support for students and access provisions to Offa by its deadline of March 31".
It comes after MPs backed plans to raise university fees to a maximum of £9,000, with a lower limit of £6,000.
An internal report seen by the BBC News website argues that to charge any less than the maximum would be "fiscally irresponsible" and would raise doubts about the university's "commitment to excellence".
Before the vote ministers claimed the upper limit would only be applied in "exceptional circumstances".
But the report from the Cambridge working group says it expects "most if not all our peers" to charge the maximum fee.
The university wants to offset the increase by offering its own fee waiver which would reduce fees by £3,000 plus offer a bursary of £1,625 for students from families with an income less than £25,000.
This reduction or fee waiver would mean that for low-income students at Cambridge, tuition fees would effectively be £6,000, which is likely to be less than many other less-prestigious universities.
There would also be a tapered means-tested level of fee waiver up to a family income of £42,000.
This is likely to provide some level of extra support for about a quarter of students, with the aim of the combined subsidies and lost fee income costing no more than £10m per year.
The report's recommendations, which are due to be decided upon next week, also set out what the university should promise in terms of widening access.
It says that it will suggest raising its percentage of state pupils to between 61% and 63%, up from the current 58%, in plans to be submitted to the Office for Fair Access.
But it notes that any higher levels would be "not achievable" because of the likely negative impact of raising fees on recruiting state students.
Cambridge University Students' Union President Rahul Mansigani said that the raising of the fee level meant that "the need for proactive access work from the university is more important than ever".
"Cambridge must ensure that it commits to a bursary system that is most financially beneficial to its poorest students - the only way of doing this is a substantial maintenance bursary."
At present students in Cambridge can receive a means-tested bursary of £3,400 per year.
Under the working group proposals this would be lowered to £1,625, with more subsidy now being targeted at reducing the impact of higher tuition fees.
The students' union leader says that government cuts to higher education risk a "devastating effect" on aims to widen participation.
Universities across England are working on setting their tuition fee levels for 2012.
A meeting of Oxford University academics to discuss student funding on Tuesday afternoon, heard that because of funding cuts Oxford would have to charge fees of around £8,000 to stand still.
Professor Tony Monaco, pro-vice-chancellor of planning and resources, said: "Anything else would mean we lose money or we have to find, with immediate effect, funds from elsewhere."
At the start of the meeting protesters could be heard chanting "no ifs, no buts, no education cuts".
Inside the building, Frances Lannon, chairman of the Conference of Colleges and principal of Lady Margaret Hall, said: "It would be abhorrent to us to create an Oxford that's only available to those that are able to pay."
But she warned: "If we were to charge fees of lower than £9,000, our ability to sustain academic excellence and provide fee waivers and bursaries would be proportionately lessened.
"We cannot choose to lower fee income and at the same time support excellence and access in the way we passionately wish to."
This week the government is expected to give details of what universities wanting to charge more than £6,000 will need to do to protect access for poorer students.
NUS President Aaron Porter said it was no surprise that Cambridge intended to charge the maximum amount.
"The government has completely failed to put any restrictions, or even disincentives, in place to stop universities asking for as much money as possible from students.
"We can now expect a race to the top now as universities rush to gain kudos by joining the '£9,000 group' as quickly as possible."
Related Internet Links
The BBC is not responsible for the content of external sites.