Care home opens 1950s shop for elderly residents
By Hannah Richardson
BBC News education and family reporter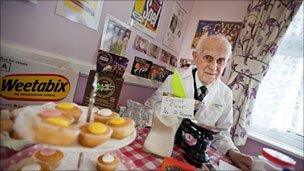 A care home for the elderly has recreated a 1950s-style Co-op shop to remind its residents of the happiest times of their lives.
The stall at the Birchwood Care Home features drinks, sweets, cereals and household products that were popular at the time.
The feature is such a hit that 91-year-old resident Spencer Tricker has taken on the role of shopkeeper.
He weighs up items for his customers using traditional scales.
Spencer said: "I am the son of a grocer so I know all about the job my father did.
"I made some suggestions about what to have on the stall, like the scales and what to put on the counter.
"It jogged a few memories and the other residents have been coming over to have a look."
Lesly Norton, activities co-ordinator at the home in Ilford, Essex, said: "The 1950s was a special era and our residents would have been in their youth at the time.
"The shop is a very visual way of bringing that period back to life. It has proved a great talking point among the residents, sparking memories of when they were young.
"They have really enjoyed seeing items in their original 1950s packaging again and pretending to go shopping."
It was also the decade when supermarkets first started popping up in Britain's high streets.
Mary Monahan, one 80-year-old resident who worked from her local store in Bow, east London, in the 1950s, said: "The Co-op was my first job and I loved working with the other ladies.
"It's been wonderful to relive those days and see all the old brand names and packaging.
"We have had a lot of fun pretending to go shopping and reliving the good old days. It's been a real trip down memory lane for me!"
Related Internet Links
The BBC is not responsible for the content of external sites.