Million children 'severely maltreated', says NSPCC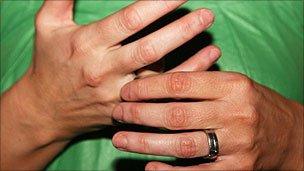 One in four people in the UK, aged between 18 and 24, claims to have experienced severe violence, sexual abuse or neglect as a child, says the children's charity the NSPCC.
The study also says a million secondary school pupils have faced "severe maltreatment" during childhood.
Children in poorer households and those in homes with separated parents are significantly more likely to face violence and abuse, says the charity.
But it says abuse has decreased.
NSPCC chief executive Andrew Flanagan said it meant there were likely to be "severely maltreated children in every secondary school".
Since only 46,000 children were subject to child protection plans, the NSPCC suggests that a large majority of such cases of cruelty and abuse remain unknown to the authorities.
It follows a landmark survey carried out by the charity a decade ago - and it says this latest research suggests that the threat to children is reducing.
The findings that a quarter of 18 to 24 year olds had experienced "severe physical violence, sexual abuse or neglect in childhood" were based on interviews with 1,761 young people, carried out in 2009.
When this total is broken down, the report shows that 12% had experienced a physical attack by an adult and 11% had experienced a sexual attack either from an adult or another young person.
The report also used a second survey of 2,275 young people aged 11 to 17, which found one in five had been "physically attacked by an adult, raped or sexually assaulted or severely neglected during their lives".
The study defined "severe maltreatment" across a wide range of measures. It included young people who had been subject to rape, attempted rape, forced sexual contact, sexual abuse, physical harm such as a black eye and being hit with a weapon.
But it also included "serious emotional neglect or lack of physical care or supervision", which it defined as including "parents never or hardly ever asking their child who they were going out with or where or what they were doing".
This category also included children reporting that "the child's family never let the child know they cared about them".
The study reveals an overall decline in children reporting that they have experienced violence and abuse.
It showed that repeated verbal abuse and the regular use of physical punishment had fallen sharply in the past decade.
There had been a smaller decline in levels of "coercive sexual activity".
The NSPCC chief executive said: "The scale and impact of child abuse requires a major shift towards earlier intervention in child protection.
"When children do not get the protection and support they need when they most need it, they can be vulnerable to continuing physical or mental harm and further abuse," said Mr Flanagan.
Children's Minister Tim Loughton says the NSPCC will receive a grant of £11.2m for ChildLine and the NSPCC Helpline until 2015.
"The report shows just how important public education campaigns and access to helplines are to ensure that we all work together to stop abuse," said Mr Loughton.
Related Internet Links
The BBC is not responsible for the content of external sites.