Scientists call for Baccalaureate at A-level
By Hannah Richardson
BBC News education reporter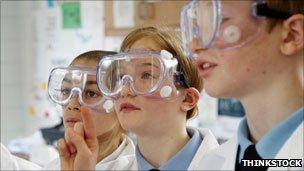 Scientists are calling for a new Baccalaureate-style qualification at A-level that allows students in England to study a wider range of subjects.
The Royal Society says the standard three choices at A-level limits the number of students applying for science degrees.
This is because few take the two sciences and maths required by universities.
Ministers say they want to strengthen maths and science in schools.
Schools minister Nick Gibb says the government's move to include mathematics and science in the new English Baccalaureate would drive up participation rates and attainment in these subjects pre- and post-16.
"We are already committed to looking at new ways to encourage the take up of science qualifications, in particular physics, at all levels," he said.
He added that ministers were open to ideas from leading societies and universities about how to do so.
The Royal Society report says: "The levels of participation in science and mathematics, particularly outside Scotland, indicated problems with the structure of post-16 qualifications provision and an underlying cultural indifference towards science across the population as a whole."
It says many students would welcome being able to take a wider range and number of subjects at A-level, and argues "it is clear that A-levels are not fit for purpose".
Across the UK in 2009, just 17% of 16 to 18-year-olds took one or more science A-level, or equivalent qualification, the report says.
In the same year, 17% of secondary schools in England did not enter a single pupil for A-level physics. In Wales this figure was 13% and in Northern Ireland it was 43%.
And it warns that UK universities produce fewer than 10,000 home graduates in science and maths.
Chair of the Royal Society Education Committee Professor Dame Athene Donald said it should be a top priority for the government to reform England's education system.
She added: "At a time of economic uncertainty, when science and scientists can play a key role in revitalising the UK's financial outlook, it is deeply worrying to find that numbers of A-level science students are at such low levels."
The report also points out that in the Scottish education system, where youngsters take Highers instead of A-levels covering five subjects, a greater proportion of pupils take core sciences at this level.
It also notes that England's Education Secretary Michael Gove has announced a new English Baccalaureate at GCSE, which requires those wishing to gain it to study two sciences along with English, maths, a language and either geography or history.
The report also calls for more efforts to maximise the number of specialist maths and science teachers and for the diversity of A-level and equivalent qualifications to be reviewed.
Related Internet Links
The BBC is not responsible for the content of external sites.