Cambridge University takes next step to £9,000 fees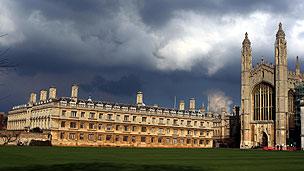 Cambridge University has moved a step closer to introducing tuition fees at the maximum level of £9,000 per year.
The university's council has accepted a recommendation for £9,000 fees - with plans for a support package of £4,600 for low-income students.
There will now be a vote among the university's academics on the fees and bursary package.
Last week Deputy Prime Minister Nick Clegg warned universities would have to widen access before charging £9,000.
A meeting by the university's council on Monday accepted proposals for the maximum fee level, as recommended by the university's working group on fees.
This includes a package of support for low-income students of £4,600 per year, in bursaries and fee-waivers.
The university says there will be a further debate of the proposals this week among colleges and then a vote among academics in the Regent House, the university's governing body.
The proposals will then have to be put to the Office for Fair Access, which will scrutinise how access will be protected for poorer students.
Each step is moving the university towards adopting the highest level of tuition from 2012.
A final announcement on fees is expected in the summer.
'Outrage and disappointment'
The Cambridge University Students' Union says students are "outraged and disappointed that this government has forced us, through savage cuts, into a position where their maximum fees are unavoidable".
The students' union says it has "secured an increase in the total spend on bursaries and fee waivers to at least £4,600 per eligible student".
It wants poorer students to have bursaries rather than a subsidy in fees.
"This is an improvement, but is only the beginning: students rightly expect this figure to be pushed up further still, especially in the context of the disastrous introduction of £9,000 fees," said students' union president Rahul Mansigani.
The government, which pushed through the controversial plan to raise fees to £9,000, has been warning universities that they should not assume that they will be able to charge the maximum amount.
Mr Clegg told students last week that it would be up to the Office for Fair Access to decide on whether universities could charge above £6,000 per year.
Oxford University has warned that it will need to charge at least £8,000 per year to replace budget cuts.
There have also been concerns that there will be insufficient funding for student loans if most universities charge at the upper end of the fees range.
Related Internet Links
The BBC is not responsible for the content of external sites.