English course cuts 'to hit citizenship and jobs'
By Katherine Sellgren
BBC News education reporter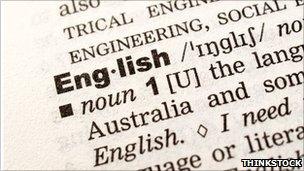 Changes to the way English language courses for foreigners are funded will affect citizenship and the jobs market, the Association of Colleges claims.
From September, the government will only meet the full cost for courses for people in England receiving "active" benefits, like jobseekers' allowances.
Those on "inactive" benefits, such as income support, will have to pay fees, which are half the total course cost.
The government said it was right for learners and employers to contribute.
The AoC questioned 75 colleges across England in January about the issue.
It found 53% of students in these colleges who were enrolled on Esol courses (English courses for speakers of other languages) received inactive benefits.
The association said this meant around 99,000 students would have to pay course fees themselves and colleges fear many will be unable to pay these fees of between £400 and £1,200.
The AoC said women seeking to improve their English language skills would be particularly hard hit, because 74% of Esol students on inactive benefits were women.
AoC's director of education policy, Joy Mercer, said: "Our members have told us that this would have a considerable negative impact on the ability of new citizens, or those applying for citizenship, to progress to employment or become involved in the 'big society' through volunteering.
"These courses have proved to be a lifeline for many people, including those on low incomes and their spouses, asylum seekers and refugees.
"There are currently 187,000 adults enrolled on Esol courses to improve their English in order to find better jobs and increase their income, help their children with schoolwork and become fully integrated into the community."
A spokesman for the Department for Business, Innovation and Skills said: "The government's skills strategy delivers targeted help where it is most needed to enable people to prepare for work and get on in their careers.
"That is why we will fully fund Esol courses for unemployed people on active benefits where English language skills are a barrier to entering employment.
"As Esol training provides clear benefits to employers, it is right that employers as well as learners contribute towards the costs when public funds are limited."
An assessment of how the changes affect Esol learners would be undertaken by the department shortly, he added.
Related Internet Links
The BBC is not responsible for the content of external sites.