Students 'missed out' over exam board marking errors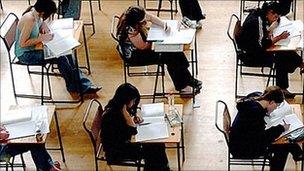 Thirteen A-level students missed out on their first choice of university or course last September because of a marking error by exam board AQA.
In total, 146 A-level, 289 AS-level and 187 GCSE grades were altered after new on-screen marking systems meant some answers went unmarked.
AQA has said it regrets the errors and has moved to prevent future problems.
Around 1.5 million candidates in England, Wales and Northern Ireland sit AQA exams each year.
The problem first came to light when some schools and colleges queried some of their candidates' grades, which were lower than expected.
Centres which saw candidates' scripts realised that some elements had not been marked.
Since 2005, AQA has increasingly used technology to mark exams and, in 2010, approximately half of the scripts were marked on-screen.
This system involves scanning scripts and segmenting individual responses so they can be marked separately.
The errors crept in last year after the exam board extended online marking to "unconstrained answers", where candidates write their answers in an answer booklet where the response area for each question is not pre-defined.
This meant not all "creditworthy material" was marked before results were published.
In total, 3,353 candidates from 1,335 centres got incorrect marks.
AQA said it had notified the students who had been given incorrect grades, and that correct grades were issued in October.
The Ofqual inquiry criticised AQA for not notifying the watchdog and the university admissions service, Ucas, when the board first became aware of the errors on 17 September - and instead waiting until 30 September.
"The delay in notifying the regulators, and notifying Ucas after the clearing process had closed on 20 September 2010, limited the opportunity for these organisations to consider any possible actions that might mitigate the impact of the failure on candidates," the report said.
Ofqual found that if the error had been identified earlier, 13 students would have got the grades for their first-choice university.
As it was, four got a place at their second-choice university, seven got other places through clearing and two were unplaced.
The Ofqual report said AQA did not have structures in place to identify problems in the marking system.
It said: "AQA could have identified the failure earlier if more effective risk assessment and arrangements for handling and reporting problems concerning the on-screen marking of scripts had been in place."
It said the exam board "did not properly consider or monitor the risks" associated with extending the use of on-screen marking for separate answer booklets.
"Had more effective risk assessment taken place, AQA would have been more alert to the potential problems and had the opportunity to put in place suitable contingency arrangements to ensure marks were accurate before publication," it concluded.
Chief executive of Ofqual Isabel Nisbet said: "The failings by AQA identified by this inquiry are very disappointing, especially as they led to some candidates missing out on their first choice of university or course.
"Factors that contributed to the marking error included limited piloting of the new on-screen marking system, a lack of effective risk assessments and deficiencies in the role and training of examiners on the new system."
The board said it "deeply regretted" the errors and had implemented an action plan to prevent such errors occurring again.
In a letter to Ofqual, AQA's chief executive, Andrew Hall, said: "It is reassuring that much of the analysis of the issue and the recommendations contained within the Ofqual report mirror what we included in the report of our own internal inquiry, which we published last December."
Related Internet Links
The BBC is not responsible for the content of external sites.