John le Carre donates archive to Bodleian Library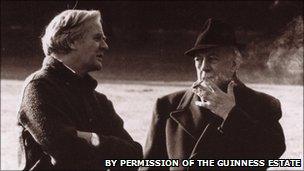 The novelist John le Carre has donated his literary archive to Oxford University's Bodleian Library.
Le Carre, 79, said he was "delighted" to hand over his works to his former university.
The display will include handwritten and typed drafts of one of his best known works, Tinker Tailor Soldier Spy.
Eighty-five boxes have been delivered to the library, and more material, such as personal and family papers, photos and correspondence will follow later.
Private photos of le Carre with Alec Guinness, who starred in the 1979 BBC series of the novel, will be on show.
Manuscripts of two of the writer's own favourites, The Constant Gardener and The Tailor of Panama, will also feature in the display.
Le Carre said: "I am delighted to be able to do this. Oxford was Smiley's [le Carre's fictional intelligence officer] spiritual home, as it is mine.
"And while I have the greatest respect for American universities, the Bodleian is where I shall most happily rest."
Richard Ovenden, Keeper of Special Collections and Associate Director of the Bodleian Libraries, told the BBC Radio 4's Today programme that the collection showed how "just how much industry, effort, craft" went into the works of a writer of Mr Le Carre's stature.
He said, for example, that on one page of the manuscript of Tinker Tailor Soldier Spy, only about three lines had not been altered, corrected, amended, deleted or rewritten.
He also said there were interesting examples of wording which did not appear in the final draft.
The description of the character George Smiley, for example - "his legs were short, his gait anything but agile, his dress sober" - remains in the published book.
But an early sentence of description was not included: "His overcoat was that of a loose weave, which is designed to attract and retain the wet."
Mr Ovenden said: "We are enormously grateful that John le Carre has made his archive available to the Bodleian.
"It is compelling primary evidence of a major cultural contribution to a literary genre and will offer scholars important insights into his work.
"We hope the collection will also be appreciated more widely, through exhibitions, seminars and conferences as well as through digitisation initiatives."
Le Carre is the pen name of David John Moore Cornwell.
During the 1950s and the 1960s he worked for MI5 and MI6.
When his third novel The Spy Who Came in from the Cold (1963) became an international best-seller, he left MI6 to become a full-time author.
Le Carre has written 22 novels. They have been translated into 36 languages.
He studied languages at Lincoln College, Oxford.
Related Internet Links
The BBC is not responsible for the content of external sites.