Supply teachers 'cost schools £293m last year'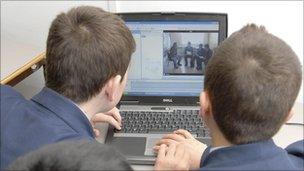 Secondary schools in England spent £293m on supply teachers last year - the equivalent of nearly £100,000 per school, the Taxpayers' Alliance says.
The campaign group found schools in deprived areas - where more than 30% of pupils were eligible for free school meals - spent more than £140,000 each.
It said those children most in need of stable teaching were the most likely to be taught by a range of teachers.
The government said the cost was just a fraction of the £30.4bn schools budget.
The findings, from the group which campaigns for lower taxes, are based on analysis of government spending data for 2009/10.
The alliance's report said: "It is clear that although spending on both types of teachers (regular and supply) increases with deprivation, the increase is far greater with respect to supply teachers.
"There may be any number of reasons for this, for example schools in deprived areas find it harder to fill full-time positions and there is increased time off for sickness.
"But the simple conclusion is that the children who need good, stable teaching most, are the most likely to have instability in their teachers."
The analysis by the Taxpayer's Alliance, which lobbies for lower taxes and greater government efficiency, found little apparent correlation between pupil funding and academic achievement.
"Many areas that have low attainment are those with the highest funding per pupil," the report said.
This supports "anecdotal views that simply throwing money at schools is not what is needed to improve pupil achievement", it said.
The report also found that a "pupil premium" already exists in schools, with schools that have more than 30% of pupils on free school meals receiving 26% more per pupil in funding than others.
Last year, ministers announced plans to introduce a new "pupil premium" with schools getting an extra £430 from next year for every child from a less privileged background.
Simon Cook, author of the report, said: "It is clear that schools in more deprived areas are getting a substantial premium in terms of funding, but most aren't able to overcome the challenges of working with more deprived children and deliver better results.
"It is really important that more information like this is released so that we can have a real, informed debate about how we can make public services work."
Matthew Sinclair, director of the Taxpayers' Alliance, said: "Many parents are very concerned when they see their children being taught by a series of different supply teachers, rather than enjoying a stable learning environment with a regular teacher."
A spokeswoman for the Department for Education said: "It is down to schools and local authorities to decide on their use of supply staff and ensure that taxpayers get value for money.
"Supply staff play a valuable role in providing schools with the cover they need, but it is important for children to have consistency in their learning."
Chris Keates, General Secretary of the Nasuwt teaching union, said supply teachers were "valuable members of the school workforce".
"It is wrong to imply that somehow pupils are being short-changed when supply staff are employed," she said.
Related Internet Links
The BBC is not responsible for the content of external sites.