Hip hop babies and the children's laureate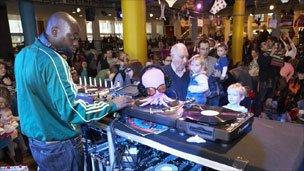 "Hands up if you had more than four hours sleep last night!"
It was a phrase bound to win over the audience of smiling and yawning parents.
With babies on their laps and toddlers on their hips, they rocked gently to the sounds of Dr Octopus, AKA DJ and poet Dr Charlie Dark.
He was one of the many artists tasked with delighting and fascinating the nation's children as part of the South Bank's Imagine Children's Festival, held during the February half term.
Like all good children's entertainment, his unique combination of hip hop garnished stand-up and pre-school singing group, appealed to parent and adult alike.
As the father-of-two taught the youngsters to rap the alphabet, he kept the yummy mummies giggling - reminding them of the bitter-sweet pleasures of the parenthood club they had joined.
"Hey kids, you know your mum had a life you know before you came along," he called out to titters, explaining how his son would always stare back at him in disbelief when he told him of things that happened before he was born.
"Some of these mums could even dance," he continued. "But that all changes once babies arrive," he quipped to hearty chuckles.
And as he recounted the story of the would-be underwater DJ - Dr Octopus and his friends - with the aid of some eye-catching hand puppets, the children and parents bopped, laughed and even rapped enthusiastically with each other.
More than a daylight disco in the unlikely surroundings of the Royal Festival Hall, this was a celebration of parenthood and the great fun of having children.
Also celebrating children and what they can do, if given the freedom, was children's laureate Anthony Browne.
With a face as warm and lined as one of his immaculately drawn gorilla characters, he encouraged children as young as five to come up on stage in front of a full auditorium and draw pictures out of randomly drawn lines and squiggles.
And excited child after child trundled down from their seats and up to the front to play what Browne calls the shape game - designed to stretch and provoke children's imaginations.
Ducks, dinosaurs, saxophones were all confidently scribbled without hesitation as the audience waited expectantly to see what would emerge on the author and illustrator's flip-charts.
He said: "If you ask a five-year-old, can you draw? They will say, 'yes of course I can'.
"If you ask them, can you make up a story? They will say 'yes of course'."
But adults tend to give different answers, he said.
"Somewhere along the way they stop imagining and start trying to create great art," he said.
In his picture books, Mr Browne himself plays with some of the most famous paintings in history - such as the Mona Lisa - whom he gives a gorilla's face and a set of false teeth.
In his stories, he climbs inside a child's psyche, using tone, shadow, colour and suggestion to explore their anxieties, worries and constant need for attention and appreciation.
He explains to the children how the rich backdrop he creates is almost more important than the words of the book itself.
And the gentle reminder to the parents in this audience, and those reading his tales at home, is always to put down their newspapers and mobile phones long enough to remember what it is to be a child.
The Imagine Children's Festival is continues at the South Bank Centre until Sunday, February 27.
Related Internet Links
The BBC is not responsible for the content of external sites.