Credit cards do not count as spending, say young adults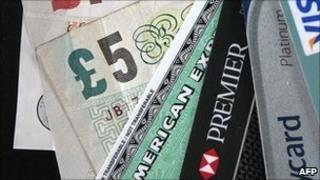 A third of young adults in the UK think buying something on a credit card does not count as spending money, a survey suggests.
A Barclays' poll of 1,250 people aged 16 to 24 found 34% regularly ran out of money.
Only 4% of those surveyed could remember receiving financial advice or guidance on how to manage their finances from their school or college.
One in three of the 22 to 24-year-olds relied on the "bank of mum and dad".
The poll found three-quarters had saved during the course of the past year, but they based saving around targets - setting aside money for things that they wanted, such as clothes or gadgets.
One in four young people who are unemployed and 13% of those aged between 16 and 24 said they constantly run out of cash.
Of those surveyed, 90% said they relied on financial advice from parents or friends.
Schools in England are advised to teach financial literacy as part of personal, social and health education (PSHE) lessons, although this is not compulsory.
Money skills
The survey findings were published as Barclays announced it had joined three youth charities - Action for Children, the National Skills Academy for Financial Services and the National Youth Agency - to offer money management skills to a million 16-to-24-year-olds.
The scheme, which will offer help with budgeting, spending, saving and avoiding debt, will target people in hard-to-reach groups, such as those who are not employed or in education or training.
Deanna Oppenheimer, chief executive of Barclays UK Retail Banking, said: "It is essential that vulnerable young people are given the best start in life.
"Having good money management skills, particularly when faced with a constrained budget, is vital to enhancing their life opportunities and preparing them for independent living."
The survey was conducted by the Social Market Foundation.