UK universities: Concern over foreign donations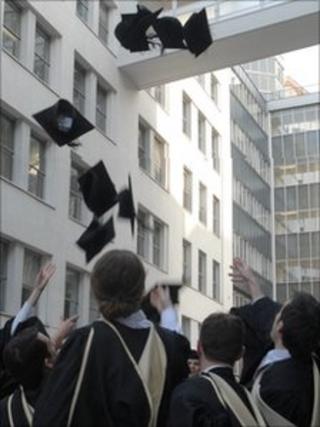 The row about links between Libya and the London School of Economics has highlighted wider concerns about foreign money coming in to British universities.
Senior figures at the LSE say they are "embarrassed" to have made deals with and accepted donations from elements of the Gaddafi regime, but many observers think this is the inevitable result of pressure to find wealthy partners.
The University and College Union has said it is worried about the way universities have been looking for donors.
It says the situation will only get worse because of cuts in higher education funding.
UCU general secretary Sally Hunt said: "We expect that some universities will be wooed by, or even actively pursue, foreign governments and corporations, including some with dubious human rights and environmental records."
The union wants universities to sign up to new codes of ethics, to help screen donations more carefully. "This would ensure greater transparency across the board", Sally Hunt said.
'Disgrace'
More forceful criticism has come from Conservative MP Robert Halfon, who raised the issue in the House of Commons this week.
He called the deals between Col Gaddafi's family and the LSE "a disgrace to common decency", and he urged the government to prevent any repeat of what he called a "scandal".
The supply of detailed information is limited, as universities do not have to spell out the precise sources of money they receive.
But experts at Buckingham University say £750m has been donated to UK universities by Arab or Islamic states alone since 1996.
The LSE agreed to take money from Libya and Liverpool John Moores University had also held talks about a venture. It says it received only £14,000, to help train nurses and improve healthcare in Libya.
The university said it was no longer involved in the work. "We are not ashamed of trying to help the people of Libya develop their economy and their infrastructure to improve their health services", it said in a statement.
Figures used by the House of Commons library say an estimated £75m was given to the Oxford Centre for Islamic Studies by 12 different countries, including Yemen and the UAE.
'Problematic'
It also says Prince Alwaleed bin Talal of Saudi Arabia gave £8m each to the universities of Cambridge and Edinburgh for new research centres for Islamic studies.
One of the academics who worked on the LSE programme in Libya, Professor Colin Talbot, says the receipt of such money is "problematic".
He now works at Manchester Business School. He said: "I have concerns about many sponsorship deals at universities, whether it's western corporations or overseas donors."
"For example, in Oxford one of the most prominent business schools in the world was funded by a Middle East arms dealer."
The Syrian-born businessman, Wafic Said, helped create the Said Business School with a donation of £20m. He has played a part in Middle East arms deals involving UK companies.
It is accepted that many of the global deals struck by British institutions - including that involving Mr Said - are genuinely philanthropic, and they are central to the work of some universities.
Success
The group which represents higher education bodies, Universities UK, says the international links fostered by British academics are essential.
Nicola Dandridge, chief executive of Universities UK, said: "Whether universities should accept particular donations is a matter for individual institutions to decide upon. Of course, they will take into account the relevant political and ethical implications when they make their decisions."
She added: "The success of UK higher education depends on these international links and collaborations."
Sir Howard Davies rejects charges that the LSE was influenced by the Libyan money it received - or by any other donations.
"I believe we have not sacrificed independence," he said. "We have been absolutely scrupulous to make sure there was no control over research by those making donations."
Professor Colin Talbot agrees that with proper safeguards donations can be accepted. American universities, he points out, mostly resist the commercial pressures which are put on them.
He also agrees with Sir Howard that the LSE programme to train Libyan civil servants was a positive one. He said: "I don't think it's a coincidence that Libya's one of the countries that's now revolting against their regime."
"It's extremely unfortunate for the LSE, but Howard Davies has been made to carry the can for something that was clearly a British diplomatic strategy."