Schools 'should let children help pick teachers'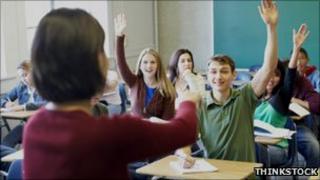 More schools should involve pupils in the recruitment of teachers, says the children's commissioner for England.
A survey of 2,000 children aged nine to 16 for commissioner Maggie Atkinson found two-thirds would like a role in the recruiting process.
But only 18% of children had been involved in choosing a teacher, the survey added.
The Nasuwt teaching union said putting pupils on an interview panel undermined the authority of teachers.
The survey suggested some 87% of children feel they know what makes a good teacher.
And many of those quizzed in depth on the issue identified a number of attributes they felt were important.
These included knowing their subject, giving good feedback to pupils, being clear about expectations and listening to pupils' ideas and making lessons interesting.
But only a quarter thought setting homework was important.
Dr Atkinson said: "Young people are a school's customers, and they see lots of different teaching styles over the course of a school career.
"Our research shows that they understand teaching is a challenging job which requires a wide range of skills from teachers - it is not just about their academic qualifications or how loudly they can shout."
She said it made sense to make use of this experience when recruiting staff.
"With the proper training and support, pupils can bring a different, and valuable, point of view to the table," she said.
'No veto'
She added: "This is not about putting the children in charge. Rather, it is about making use of their experience."
Dr Atkinson said there were many ways of involving young people in the recruitment process.
These include having members of the school council sitting as part of the interview panel and getting feedback from pupils on a sample lesson taught as part of recruitment process.
Dr Atkinson's call was supported by the National Union of Teachers' general secretary Christine Blower.
She said: "Whilst it is not appropriate for pupils to have any kind of veto in appointing teachers we do think that it is right for pupils to be members of governing bodies and for their opinions to be heard during the interview process."
'Really useful'
And Chris Keates, general secretary of the Nasuwt teaching union, said children and young people have an important voice in how their education and school community develops.
However, she added: "Putting pupils on an interview panel or in direct control of teacher recruitment undermines the respect and authority of teachers.
"This type of practice is another example of teachers being afforded fewer rights, simply because they work with children."
Heather Shore, a teacher at the Compass learning centre for children at risk of exclusion in Weymouth, Dorset, said a panel of students had interviewed applicants as part of a recent recruitment process.
"We found that what they had to say was really useful, and actually mirrored quite closely the thoughts of the panel of adults who also interviewed," she added.