Cable warns universities over fees of £9,000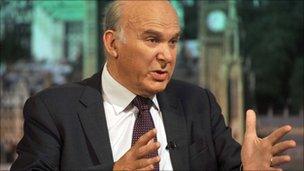 Business Secretary Vince Cable has hit out at universities in England planning to charge students the £9,000 top rate.
Mr Cable threatened to take places away from universities that failed to fill places as a result of the higher fees.
Addressing vice-chancellors at a conference, he said: "Think carefully about what you believe students are prepared to pay for your services."
His warning comes as many universities have announced plans to charge the full tuition fees of £9,000 from 2012.
On Tuesday, the University of Central Lancashire - a former polytechnic - said it would charge £9,000 a year.
On the same day, the University of Portsmouth and London South Bank University, both former polytechnics, announced they would charge £8,500, and £8,390 respectively.
All fees will have to be approved by the Office for Fair Access (Offa).
Speaking at the Higher Education Funding Council for England (Hefce) conference in Birmingham, Mr Cable said many students had had intensive teaching in sixth-forms and would have high expectations of university teaching.
"The biggest mistake a university could make is to underestimate its consumers," he said.
"Students will search for value for money and compare the offers of different universities."
In a veiled attack on less prestigious institutions, Mr Cable told vice-chancellors the government set the higher amount at £9,000 "to allow increased investment in our world-class universities."
"Attempts by universities to pitch their charges near the top of the range is a zero sum in terms of available resources.
"It is economically irrational on a collective basis - and it's very likely irrational in individual cases too."
The University and College Union (UCU) said rushing the original vote through for £9,000 fees and then looking at the details later down the line had always been a recipe for disaster.
UCU general secretary, Sally Hunt, said: "The government's fee regime is in complete disarray and its sums clearly do not add up.
"It quickly became clear that all English universities would have to charge more than £6,000 a year just to break even, following devastating funding cuts.
The union criticised Mr Cable for suggesting places would be cut from universities which fail to fill places because they are charging the full fee.
"Vince Cable was wrong at the time to suggest that a fee in excess of £6,000 would only be charged in exceptional circumstances," said Ms Hunt.
"He is wrong now to suggest that universities or students should be punished for the government's mistakes."