School building system not fit for purpose, review says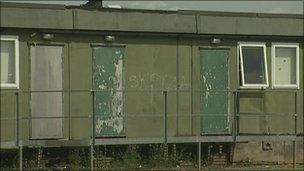 The system for school building in England is not fit for purpose and new schools should be built to a standard blueprint, a review has said.
It said Labour's £55bn Building Schools for the Future scheme, axed last year, was "expensive" and did not help the neediest schools fast enough.
Labour said school building faced major cuts and was in "complete chaos".
More than 700 school rebuilds were stopped when the scheme was axed last year, sparking an outcry from teachers, councillors and pupils.
The review by Mr James, the director of operations for the Dixons Group, looked at planning, funding and building new schools, and refurbishing and maintaining existing ones.
Mr James said the overwhelming majority of people who had given evidence said the current system was "complex, time-consuming, expensive and opaque".
Savings of up to 30% could be made by streamlining it, he said.
He recommended that new buildings should be based on a set of "standardised drawings" which would "incorporate the latest thinking on educational requirements".
The report said "this does not mean buildings will all look the same".
But it said "off-site construction will be possible for some standard elements", suggesting a move towards what some have described as "flat-pack schools".
The BSF scheme, which saw several flagship, innovative schools designed and built, produced designs that were "far too bespoke", the review said.
A "lack of expertise" among those procuring the buildings - often head teachers - meant there was little opportunity to lower costs or improve building methods, it found.
The review also said that other processes for funding capital projects "diverted funds to those most adept at winning bids rather than necessarily to those in most need".
The system, particularly BSF, led to "islands" of expenditure in some areas, "whilst extremely dilapidated schools" in others "remained untouched", Mr James said.
Better data should be gathered on the condition of school buildings, so that money could be allocated based on the state of existing premises and the need for new places, it added.
A new central body should be set up to negotiate contracts with the construction industry, while local authorities should be allocated "notional budgets" which they would use to develop their own local strategies, the review said.
However, the Department for Education should also set aside a centrally held budget for free schools - schools set up by parents or other community groups under a policy championed by Education Secretary Michael Gove, Mr James said.
Schools with BSF rebuilds already in the pipeline should be encouraged - and given incentives - to pilot the proposed ways of developing buildings, the report recommended.
Mr Gove welcomed the report: "We must have a system for school building which is much simpler, less bureaucratic and which targets priority projects."
But shadow education secretary Andy Burnham said Mr Gove had "made a complete mess" of the schools capital budget.
Pointing out that capital spending on education was being cut by 60% in the next three years, he said school building and repairs were in "complete chaos thanks to Michael Gove".
"He has made matters worse by prioritising pet projects from the shrunken capital budget. With mainstream schools facing harsh cuts, he must set out how he intends to fund his free schools programme," he said.
And the NASUWT teachers union said the government was "wasting money to bankroll its ideologically driven academies and free schools".
General secretary Chris Keates said the capital budget cut risked a return to the past where crumbling and prefabricated buildings were commonplace.
"Better procurement of new buildings is fine providing it does not mean a flat-pack strategy for schooling which creates buildings that are uninspiring and unfit for learning in the 21st century," she said.
National Association of Head Teachers general secretary Russell Hobby agreed with the report that the old system was "too bureaucratic".
"But we urgently need a fair and transparent process for allocating capital money to the schools which teach the vast majority of the children, not the tiny numbers of free schools which seem to get disproportionate attention," he added.
"The alternative is a return to the old days of leaky roofs, temporary classrooms and over-crowding."
British Council for School Environments (BCSE) director Ty Goddard said there was "much to be welcomed" in the review's conclusions.
"A simplification of the rules, regulations and processes will help everyone," he said.
The review was commissioned in the wake of the government's decision to scrap the Building Schools for the Future scheme.
After announcing the end of the scheme last July, Mr Gove had to apologise to council officials after a number of errors appeared in the list of schools he published that were to proceed.
In February, a High Court judge ruled that the the decision to axe projects in six local authority areas was "unlawful" because of a lack of consultation.