Teachers' strike over pensions 'looming'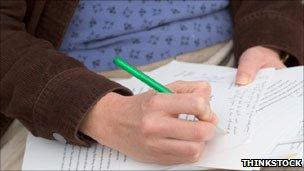 Teachers are likely to take industrial action over proposed cuts to their pensions, a teachers' leader has warned.
The Association of Teachers and Lecturers, which has never taken industrial action at a national level before, still has to ballot members.
But its head, Mary Bousted, said members could walk out in a one-day strike before the summer.
Ministers said pension changes were needed as people were living longer.
The Department for Education added that it was due to set out its proposals to alter staff pensions in the autumn.
But the DfE's workforce group has already written to union leaders setting out plans to recoup £2.8bn from the Teachers Pension Scheme.
It follows Lord Hutton's report on how public pensions should be changed.
This suggested that nurses, teachers and most other public sector staff work until at least 65 for lower pensions.
It also said that pensions should be linked to career-average earnings, rather than workers' final salaries.
The ATL is set to debate the changes in an emergency resolution at its annual conference next week.
But some 15,000 members signed a petition against the changes, which was handed to Chancellor George Osborne on Monday.
ATL general secretary Dr Bousted said members were likely to be balloted next month for action to take place before the summer holidays.
She added: "My view is that it almost certainly would involve a one-day strike and that members would be asked to take discontinuous action.
"We do this most reluctantly. We are faced with a government that has taken heavy-handed action on pensions, that's already reduced their value by 25%, and is refusing to hold meaningful discussions with us."
She said: "Education staff are being expected to pay more for their pensions, work longer before they can draw their pensions and get less at the end of the day.
"And we're not just talking about small changes."
She added: "Because the government is changing the way that teachers' pensions are calculated, the value of their pensions will be reduced by 25% on average over the course of their retirement.
"In cash terms, that's a loss of more than £60,000."
She added that contribution rates would go up by 50% and that teachers could be forced to work until they are 68.
"Many are already worried that they will not have the energy to control a class of five-year-olds or a class of teenagers."
A spokesman for the Department for Education said: "Lord Hutton has made it clear that change is needed.
"People are living longer - in the early 1970s life expectancy of a 60 year old was around 18 years: now it is around 28 years.
"The government has accepted Lord Hutton's recommendations as a basis for consultation. We will set out proposals in the autumn, that are affordable, sustainable, and fair to both the public sector workforce and taxpayers."
Related Internet Links
The BBC is not responsible for the content of external sites.