A fair chance of a place at Oxford?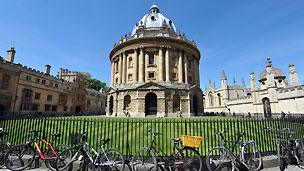 What is fair when it comes to university admissions?
Should leading universities shape their intake to reflect wider society? Or should they pick the best from among those who apply to them for places?
The issue of social exclusivity in universities has hit the headlines again as Prime Minister David Cameron said that it was "disgraceful" that "only one black person went to Oxford last year".
Oxford University, which spends large amounts of time and money in trying to shake off any image of toffishness, launched an angry repudiation, saying that the figures were "incorrect and highly misleading".
So who is right? And what do these disputed admissions figures really show about who applies and who gets a place?
First of all, there are a lot more people applying than there are places. In 2010, there were 17,000 applications for 3,200 places.
Oxford gives individual interviews to a relatively high proportion of applicants - about 10,000 are invited to talk about their application.
In this process, applicants from the poorest postcodes or from low-achieving schools are "flagged up" to interviewers.
The university says it does not discriminate for or against any applicant because of their background, but it is something identified in the admissions process.
But, to take up the prime minister's point, who in the end gets the places?
In terms of ethnic origin, and taking the 2009 figures used by David Cameron, there were 35 applicants from the UK identified as "black Caribbean". From these applicants, one person was accepted.
In contrast, there were more than 8,000 applications from white students, with more than 2,000 getting places.
There were more than 300 other students accepted from categories including Indian, Chinese and black African.
So is this a problem of how places are awarded, or about getting students to apply?
This particular admissions row was about ethnicity - but there have been longstanding rumblings about top universities being dominated by the most privileged.
Oxford has repeatedly made the point that it can only choose from among those candidates that put themselves forward - and that it can't put right the inequalities of wider society.
Sticking with these 2009 figures, about 60% of applicants were from the state sector - and among the acceptances, 54% were from state schools.
But a look below the bonnet of these state school figures shows some important distinctions. Only 27% of applications from the UK were from comprehensives.
This means that there were more applications from independent schools than comprehensives.
Grammar schools, relatively few in number but part of the state system, accounted for more than 16% of places.
And the 38% of applicants who were from independent schools bagged more than 45% of the places.
The university says that it has to choose from the most able applications from within the school system.
A third of pupils getting three As at A-level are from independent schools - a factor that is going to skew the intake of top universities choosing students on academic ability.
There are other imbalances that get overlooked. The proportion of places gained by students from London and south-east England are almost as big as all the rest of England, plus Wales, Scotland and Northern Ireland put together.
An unknown within this is how many of the comprehensive pupils who succeed in getting places are from schools serving affluent catchment areas, wealthy pupils in state schools.
Oxford is keenly aware of the need to open its doors to students from all backgrounds - and says that it makes every effort to attract a wide range of applicants.
It sees the roots of social division as already running deep within the school system - with the university admissions process not being the place to try to manipulate this.
But the university spends about £2.5m a year on outreach activities, such as working with schools and seeking to demystify the application process.
Under the existing fee regime, it spends £6.6m on bursaries, which will increase if the university's proposal for £9,000 per year fees goes ahead from 2012.
Under Oxford's fee plans, students from households earning less than £16,000 per year would only pay £3,500 for their first year - with the university subsidising the rest. Subsequent years would cost £6,000 per year.
Underlying the concerns about admissions is the broader worry about a lack of social mobility.
Rather than being the engines of social mobility, there are fears that the most sought-after universities are places that amplify and reinforce disadvantage.
It's not a new worry. The previous government commissioned a major review into making admissions fairer, headed by Professor Steven Schwartz.
Among the key recommendations was that it would be much fairer if students applied after they had their A-level results, when they knew what their qualifications could get them.
This was an attempt to reverse a pattern in which bright pupils from poorer homes often failed to apply to the most competitive universities, while independent school pupils were more ambitious in their applications.
This was given repeated backing by ministers - but universities kicked the idea into the long grass.
There has been speculation that the idea is going to be reintroduced by the current universities minister.
But Oxford says it does not want to be put into the dock for a problem that runs much deeper.
"We hope that those concerned with these issues will realise this is not just a story about Oxford but a wider one that starts with school attainment and even earlier, and hope that nobody is discouraged from considering applying to Oxford on the basis of yesterday's comments," said a statement from the university.
"We have made it clear repeatedly that we are committed to widening access to Oxford from currently under-represented groups, and in fact our world-leading reputation depends upon us being able to attract and admit the most able students regardless of background.
"Our commitment is clear and so is our expectation that these issues are approached on the basis of the facts."
Related Internet Links
The BBC is not responsible for the content of external sites.