White pupils 'threatened as ethnic minorities excel'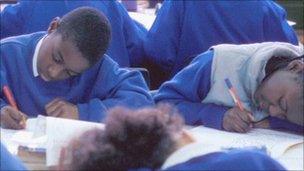 As pupils from ethnic minorities increase their competence in the classroom, their white peers become less tolerant, according to research.
The Institute of Education, University of London, study suggests white British pupils feel "threatened" by high-achieving black and Asian children.
It also found white pupils performed better as classes became more diverse.
Researchers examined data on England, Germany and Sweden from a 1999 study of 90,000 14-year-olds in 28 countries.
The results show that in England, a 50% increase in the "civic competence" - the knowledge and skills that citizens needed to participate effectively in a democratic society - of ethnic minority pupils coincided with a 20% drop in the tolerance of white British pupils.
Report author Dr Jan Germen Janmaat, from the Centre for Learning and Life Chances in Knowledge Economies and Societies, said: "As soon as minorities assert themselves and become as competent as the majority, the latter may well become defensive and intolerant.
"It seems that the ethnic minorities are only accepted by majority pupils if they stay in a subordinate position.
"This may be down to competitive anxieties - ethnic groups may not be perceived as a threat when they are struggling to succeed, but as they increase their status and become more adept at finding their way in society this seems to change."
Dr Janmaat said the findings could be even more relevant in today's climate of tougher competition for jobs.
"If even in times of great optimism and economic growth such as the late 1990s we see the phenomenon of 'competitive anxiety', it is likely to be even stronger in times of scarcity."
The study also found a small correlation between classroom diversity and the civic competence of white British students.
The more diverse the classroom, the better the white students performed, it found, contradicting the belief that diversity undermines the performance of white British students.
Related Internet Links
The BBC is not responsible for the content of external sites.