Liam Burns elected as new students' union president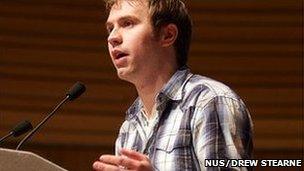 The National Union of Students has voted for Liam Burns as its new president.
Describing himself as a centre-left candidate, Mr Burns defeated the more radical Mark Bergfeld, and further education vice president, Shane Chowen.
Mr Burns, currently president of the NUS in Scotland, called for further peaceful direct action protests.
He accused the government of "desperately scrambling" with its tuition fees policy in England.
The election, which used the alternative vote system, saw two moderate candidates heading the field.
In his manifesto, Mr Burns said: "I support direct action, but will never accept the use of violence."
Speaking after his election he said there would be more local protests and "civil disobedience", in the form of sit-ins, occupations and demonstrations.
But he emphasised the need to bring along the majority of students and to maintain public support.
The previous year has seen a level of student activism not seen for decades, as students opposed the raising of tuition fees and cuts in university budgets.
Universities are now announcing their plans for higher fees, but Mr Burns rejects the suggestion that the battles have now been lost.
"It's not lost, when there's never been a policy when the sums added up so badly," said Mr Burns.
"It's a regressive policy that hasn't even saved them any money."
In terms of the year ahead, he said there would be joint campaigns between students and other unions.
He also said he wanted to link the NUS with "disenfranchised Liberal Democrats".
And he highlighted concerns over student finance and threats to cut places as issues that are likely to be important in the forthcoming year.
He warned the government in England against "cutting numbers to fill the hole in their maths".
The second-placed candidate, Shane Chowen, would have been the first non-graduate to have become NUS president and Mr Burns highlighted the importance of the loss of the education maintenance allowance for teenagers.
The outgoing president, Aaron Porter, who had headed the NUS through such a high-profile and tumultuous year, had addressed the conference on Tuesday.
He attacked the Liberal Democrats, who had gone back on an election pledge to students to vote against any fee increase, as the "real villains".
And he accused the coalition government of a "gigantic misjudgement" over its higher education reforms.
"The public cost of higher education may actually be higher by 2015 than it was last year, even though students are also paying up to three times as much.
"It is the worst imaginable outcome and we warned them it would happen again and again," said Mr Porter.
Related Internet Links
The BBC is not responsible for the content of external sites.