Tuition fee loans of £6,000 for private degree courses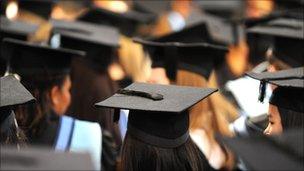 Students at private universities in England from 2012 will be eligible for state-funded loans of £6,000 for their tuition fees, the government has said.
Universities Minister David Willetts, who wants to see a market in higher education develop, said the measure was a step towards a more liberal system.
But university leaders said they were concerned about quality control.
The government also said grants for students continuing courses in 2012 would rise from £2,906 to £2,984.
This means that the maximum means-tested, non-repayable grant for a full-time student from a low-income family would rise for the first time in three years, Mr Willetts said.
In addition, tuition fees loans would also be offered to distance-learning students for the first time, he said.
Private universities are institutions that do not receive public funding, but have degree-awarding powers.
Students on some of their courses can already apply for fee loans of £3,375, as well as maintenance loans.
Some 4,000 students are currently eligible, studying at institutions including BPP University College, which teaches business and law courses, the University of Buckingham, Greenwich School of Management, and several music institutes.
From 2012, the government will fund loans up to £6,000 per year to cover students' tuition fees for designated courses at these institutions - but not the £9,000 maximum that public universities can charge.
Public universities can only charge more than £6,000 if they commit to an "access agreement" - a set of measures to help recruit students from disadvantaged backgrounds.
But private providers are not subject to the same requirements, although Mr Willetts said the government was working towards a "single regulatory regime for all institutions".
One private university, the Institute of Contemporary Music Performance, said it was setting its 2012 fees at £5,750.
Mr Willetts said the changes were designed to "place students at the heart of a more dynamic sector" and that the new system would be "more responsive to student choice".
Carl Lygo, CEO of BPP University College said the institution would be "looking closely" at the "exciting proposals".
"These are welcome steps towards helping to build an increased and diverse provision of quality higher education. BPP will be looking closely at these exciting proposals," he said.
But the vice chancellors' body Universities UK said it was concerned about "what controls for quality there will be".
"We are mindful of the recent experience in the United States of opening up the market to for-profit providers," said chief executive Nicola Dandridge.
"Many believe that the quality of provision among the for-profit providers in the United States has been poor, and the costs have been high, particularly in terms of the costs to students and to the state. This has particularly impacted on poorer students," she said.
She also raised fears that private institutions could "cherry-pick" the "more lucrative courses, making it unsustainable for universities to run the less lucrative but often more socially valuable courses".
The Million+ group, which represents new universities, questioned how the government intended to control student numbers in the private sector, given that there is no cap on places for 2012.
The group's chairman, Les Ebdon, said that if there was no additional funding for the increased fee loans, "the coalition will be switching taxpayer investment from universities to private providers... and ministers who have been threatening to take student numbers away from universities will have no control over numbers in the private sector."
The Labour Party accused ministers of "making up fees policy as they go along".
"David Willetts is clearly threatening public universities with cut-price competition from the private sector who do not need to meet the requirements of any regulator, or meet access criteria," said shadow universities minister John Denham.
Under the new system of increased fees, tuition loans are paid up-front by the government to the university, and then repaid once the student graduates and begins earning more than £21,000.
On Wednesday, the private university BPP University College said it was setting up a partnership with a further education college.
Law and business degrees awarded by BPP will be taught at New College, Swindon, from September.
They will cost £3,000 per year in 2011, but no price has been named for 2012.
Last year, BPP University College became the first private university to be created in the UK for more than three decades.
The government has modelled its plans for the university funding regime on the assumption that institutions will, on average, charge £7,500.
But the majority of universities that have so far announced their fees want to charge £9,000, despite warnings that the government could further cut their budgets to offset the cost of subsidising the higher loans.
Mr Willetts, however, argues that private providers, together with bursaries and fee waivers offered by public universities, will bring the average down.
Related Internet Links
The BBC is not responsible for the content of external sites.