Why devolved nations means devolved fees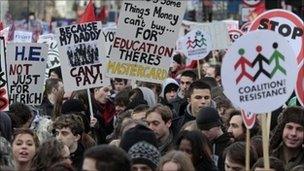 On the first day of student protests against tuition fees, many hours before the Conservative Party HQ was smashed by angry students, I met Conor Mackay, a 20-year-old student from Strathclyde University.
At first glance the decision to raise fees in England has nothing to do with Scottish students studying north of the border.
After all, free university education for Scots has become a potent symbol of the power of devolution - Scottish politicians making decisions that are tailored locally and provide a good deal for Scotland's citizens.
But Conor was fearful about which way the wind was blowing.
There is a funding black hole that is anything between £155m - if you believe the Scottish government - and £200m if you believe the universities.
It's going to have to be filled somehow if institutions are to survive and prosper.
Conor and his friends had made the journey south because they thought that students in Scotland would have to pay for their education at some point in the future.
Since that cold November day, three of the four main political parties at Holyrood have pledged not to introduce any form of graduate contribution if they get into power after the 5 May elections.
Only the Conservatives would allow Scottish universities to charge tuition fees - though they would be capped at about £4,000.
Nicola McEwan, a politics lecturer at the University of Edinburgh asked: "How do you fill that gap?
"Three of the four parties say it shouldn't be from Scottish students. Some of them are giving indications about changing four-year degrees to three-year degrees.
"There will inevitably be charges on students coming from elsewhere in the UK to study in Scotland, but that still leaves some pretty substantial gaps to be filled," she said.
Edinburgh University is one of the most prestigious universities in Scotland, attracting plenty of students from England, the EU and other nations.
But its vice-chancellor has called for the introduction of some sort of contribution from Scottish students to raise the finance necessary for the university to grow.
And Alastair Sim, the director of the vice-chancellors' body Universities Scotland, said politicians had "set themselves an extremely stiff challenge".
"When they come into power it's up to them to go through the books to work out what they can do with public funding and whether they can actually meet that challenge.
"And we will be holding them robustly to account for that," he said.
Last November, the Welsh Assembly announced its new plans for university funding.
From 2012, institutions will be able to charge up to £9,000 in fees, but Welsh students will have their fees partly subsidised wherever they study in the UK.
Politicians might have applauded the decision, but it could prove a real headache - as half of Welsh students go to England to study, while half of all the students in Wales are English.
Professor Theresa Rees, who has advised the Assembly said: "The cross-border flows are very sensitive for the health of the institutions in Wales.
"Quite a few of them are near the border - it's critical for them that it shouldn't matter where you come from... You shouldn't have a carrot or a stick, those sensitivities are incredibly important."
She described the emerging patchwork system as "unbelievably complicated" and even "barking", and called for a standard package of tuition fees and bursaries for universities across the UK.
As she pointed out, the situation is further complicated by the fact that English universities wanting to charge the top fee of £9,000 have to offer bursaries and fee waivers to help the least well off.
These are organised at an individual university level. So a Welsh student from a poor background will have their fees subsidised by the Welsh administration to study in England - and might be able to pick up bursaries and fee waivers from the institution as well.
As the law stands, politicians in the devolved nations can set their own arrangements for their universities and higher education colleges.
There have been variations in fees in the past, but nothing on this scale has been tried in the UK before.
And this means we have no idea what the outcome of Britain's internal market for degrees will be, and what it will cost the country as a whole.
Related Internet Links
The BBC is not responsible for the content of external sites.