University dilemma - dreaming spires or building site?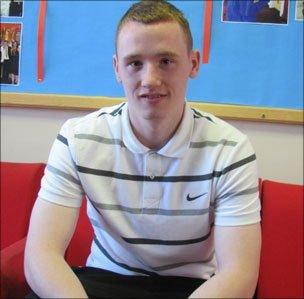 Seventeen-year-old Padge comes from a family of builders and plumbers.
His dad left school when he was about 15 and Padge was expected to do the same.
But the sixth-former at Newman Catholic College in Harlesden, north-west London, is clearly a bright boy and did well in his GCSEs.
"I surprised myself a little. I got three As, five Bs, and two Cs," he says shyly.
"When I got that, I thought maybe I could challenge myself a little and now I would like to study biology at university."
But like many others at his school there is pressure on him to leave and start work before completing his A-levels.
Padge admits: "Dropping out is tempting - you can earn a lot of money. I could go out this weekend and earn £250 on a building site.
"But I think it is better to get a degree."
In some ways Padge, like other members of the boys' school's small but growing sixth-form, is lucky.
He has been treated to a range of horizon-broadening visits and projects through the national widening participation scheme, Aim Higher.
Head teacher Richard Kolka says his school, in this deprived part of the capital, attracts students who tend not to aspire to get a degree.
There are 55 languages spoken at the school and only 9% of the boys would be classed as "white, British", he says.
The school's pupils are just the kind of students that universities spend thousands of pounds every year trying to attract.
He adds: "Something like Aim Higher makes that world real to them. It gives them the chance of sampling something - the life they could have - and gives them a motivation to move beyond their means."
The school has been involved with the government-backed scheme for the past 10 years and has had some real successes.
But Aim Higher will lose its funding in July, with the government saying universities are best-placed to make their own arrangements for boosting numbers from non-traditional backgrounds.
And universities have to sign agreements with the Office for Fair Access setting out how they intend to attract students from under-represented groups.
Aim Higher projects not only include university visits and taster courses, but also feature summer schools at places including Kingston University and Eton College.
Carmel Beirne-Francis, who is partly funded by Aim Higher to co-ordinate the school's work in this area, says many of the boys she works with had never been to see a play or been on trips out of the capital.
"This work has changed the lives of so many students," she says.
"Many are first generation immigrants - their parents didn't go to university and they don't know much about the education system here - so it's essential they get guidance."
But Padge says the prospect of paying higher tuition fees, possibly £9,000 a year, makes the idea of going to university "a lot more scary", even though he knows he can get a government loan.
He is wary of debt. Although he understands that the government pays the fees up front to the university and it is not the kind of debt that leaves someone knocking on your door, he says his Dad is less likely to.
He adds: "He'd be thinking someone's going to come and take all my stuff.
"We were taught from when we were young that debt is something to steer clear of."
Mohammed, 17, is hoping to be the first person in his family to go to university and had been planning to stay in London to study because he could live at home.
But then he was taken on a trip to the University of Kent.
"I really enjoyed the feeling of being outside London. I had never been to the country before so going to Kent opened my eyes."
But he too is worried. He has calculated that the four year course he wants to study will leave him £50,000 in debt, by the time interest is included.
He adds: "My Dad has never been in debt and he has never been to university. He is going to see me as the person who got himself £50,000 in debt."
As part of the scheme the boys have had regular sessions with current university students from similar backgrounds known as Aim Higher Associates.
Zulekha Mayet, who is doing a masters at Queen Mary University, has been working with pupils at the college for the past two years.
She suggests the class system creates perceptions which act as barriers to young people like these, especially when they are considering the more selective institutions.
She says: "When I was at the London School of Economics I was aware that I spoke differently from the students that had a more typical LSE background.
"But I never felt that I wasn't as good as them."
But she has yet to persuade Emanuel, 17, who is keen to study electrical engineering - but not at all enthusiastic about applying to do so at Oxford or Cambridge.
"I don't think I would fit in there," he says. "And it would be too high an expectation of me. I'd be happier to go to a different type of university."
Mohammed says he and his classmates are all from the same background.
"We all know what it is like to struggle day after day. When you talk about people going to Oxford and Cambridge - we are scared to cross the boundaries, we are scared to step up to the plate.
"That is why we usually would not go to a higher sector university."
Zulekha fears that the rise in fees, with many leading universities plumping for the maximum £9,000 - albeit with increased bursaries for the poorest students - has reinforced those class boundaries even further.
She says she saw a change in her students after the higher fee plan was approved.
Fellow Aim Higher ambassador Agamemnon Apostolou agrees: "It's the culture - it excludes them on a psychological level because it reinforces that it is the top and it makes barriers to places like Oxford and Cambridge even more rigid."
Related Internet Links
The BBC is not responsible for the content of external sites.