FE colleges set to charge lower tuition fees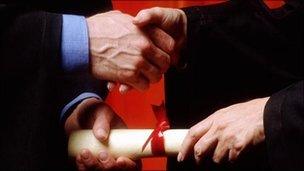 Many further education colleges will charge tuition fees of less than £6,000 next year for their degree courses, a survey suggests.
The Association of Colleges (AoC) surveyed 50 of its members on the level of fees they are likely to set.
Of these 19 expect to charge less than £6,000 and 12 expect to charge more than £6,000.
Unlike universities, where many want to charge £9,000, only a handful of colleges plan to charge £8,000 or more.
The rest of colleges in the survey plan to charge somewhere in between £6,000 and £8,000, when fees are increased for courses beginning in autumn 2012.
Last week, a BBC survey found more than half of the universities it surveyed planned to charge £9,000 for all of their courses. Two-thirds were planning to charge £9,000 for all or some of their courses.
Some 260 colleges teach university-level courses but only half get funds from the university funding body, the Higher Education Funding Council for England (Hefce).
The others run courses in franchise with universities and get funds indirectly.
Of the 31 surveyed that are directly funded by Hefce, none are planning to charge the maximum £9,000 for these degrees.
And of these, 12 expect to charge £6,000 or more with 19 expecting to charge less than £6,000.
Just one expected charges to be between £8,000 and £8,999.
Of those that have indirectly-funded courses, two said they expected fee levels for these to be between £8,000 and £9,000.
Colleges tend to offer foundation degrees and more employer focused BA degrees.
AoC higher education policy manager Nick Davy said: "Colleges offer affordable excellence as an alternative to university higher education."
He added: "Many colleges teach higher education in areas without a university or where a university does not recruit locally.
"Colleges operate efficiently; their focus is often on teaching rather than research and they frequently have lower overheads than universities."
Mr Davy added: "Tuition fees aside, college students are currently graduating with £17,500 less debt than their university counterparts because of lower living costs, according to our latest research."
More than 160,000 students are studying for degrees at further education colleges, where the cost of courses tend to be less than at universities.
The government has warned universities wanting to charge £9,000 per year that they could be undercut by further education colleges offering courses at a lower price.
Ministers had based their plans for student finance on an average of £7,500 per year.
Related Internet Links
The BBC is not responsible for the content of external sites.