Teachers back strike campaign to defend pensions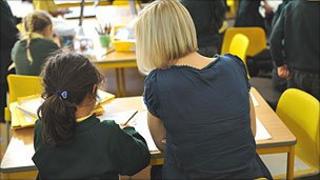 A call for strike action in schools to defend teachers' pensions could see teachers' unions staging a joint national walk-out this summer term.
On Tuesday the annual conference of the Association of Teachers and Lecturers backed a call for a strike ballot.
But the ATL's leadership says it will plan the ballot timetable with other teachers' unions.
A spokesman for the Department for Education said pension changes would be "affordable, sustainable and fair".
The ATL, traditionally recognised as a moderate union, has never held a national strike before.
Retiring later
But the union's annual conference in Liverpool has voted for a strike ballot in protest at proposed changes to public sector pensions.
The ATL's executive committee now says it will co-ordinate a ballot with other teachers' unions, if they also vote for a strike ballot at their Easter conferences.
The union says this could mean a one-day walk-out in the summer term and future days of action in the autumn.
But the union's general secretary, Mary Bousted, says the union will not do anything to disrupt summer exams.
"But ATL members are very angry - and it takes a lot to get them this angry. They do not accept the government's view that the Teachers' Pension Scheme needs to be reformed," she said.
The conference heard calls for industrial action against public sector pension changes which could mean working longer and reduced benefits.
Strike ballot
The strike ballot motion said the changes will include raising the retirement age to 68 and the replacement of the final salary scheme with a career average scheme, which would mean a lower pension for many teachers.
The union says that the proposed public sector pension changes would see teachers on average losing 25% of the value of their pension.
Teachers at the conference also challenged the idea of having to work beyond the age of 65.
"Can you imagine being a reception teacher and trying to get on and off those little chairs at 68? I think not," said history teacher, Alice Robinson.
A spokesman for the Department for Education said that public sector pensions needed to respond to the changing demographics.
"Lord Hutton has made it clear that change is needed. People are living longer - in the early 1970s life expectancy of a 60 year old was around 18 years, now it is around 28 years.
"This has meant that the value of public service pensions has increased, with most of these costs falling to employers and taxpayers.
"The government has accepted Lord Hutton's recommendations as a basis for consultation with public sector workers and will set out proposals in the autumn that are affordable, sustainable, and fair to both the public sector workforce and taxpayers."