Burnham attacks on school funding and lack of options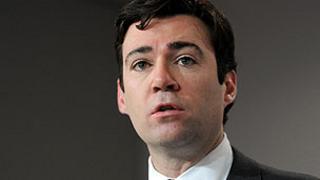 Labour's Andy Burnham has accused the government of narrowing choice and cutting budgets for schools in England.
Speaking at the NASUWT teachers' union conference, Mr Burnham said the arrival of the English Baccalaureate would narrow children's options.
He also told delegates that schools would face falling budgets for the next three years, despite funding promises.
A Department for Education spokesman said it was protecting school funding at "flat cash per pupil".
Mr Burnham, the shadow education secretary, told the NASUWT conference in Glasgow that budgets will be cut by 1.1% in real terms between 2010-11 and 2014-15.
Per-pupil funding will fall by 3.9% in the same period, he told delegates.
"We are seeing the sort of poor decision-making and lack of clarity from central government that can only be called incompetence - like the last-minute cut of £155m from school budgets," said Mr Burnham.
"This will mean schools losing money they have already been allocated in the middle of an academic year - or facing an even tighter financial settlement next year."
Mr Burnham also attacked plans for the English Baccalaureate - or English Bacc - which will see schools ranked by how many pupils achieve a good GCSE in English, maths, two sciences, a language and history or geography.
He said that it would restrict what pupils could study, would harm pupils who wanted to take creative subjects such as music and art and would put at risk the jobs of teachers who taught subjects outside of the English Bacc.
The coalition's interventions on schools showed that they were more centralising than Labour, claimed Mr Burnham.
Consultation
A Department for Education spokesman defended the government's spending on schools.
"We are protecting school funding in the system at flat cash per pupil before adding the pupil premium.
"Flat cash per pupil means that, as pupil numbers go up, the overall budget goes up in line.
"We are putting money directly in heads' hands and cutting central bureaucracy to protect the front line.
"The current school funding system is illogical, unfair and opaque. That is why we recently launched a consultation to address the disparities and inequalities within our current system."