Teachers call for public sector strike over cuts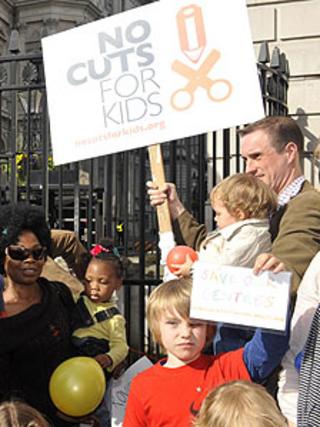 Teachers have called for a 24-hour public sector general strike against cuts to children's services in England.
Delegates at the National Union of Teachers' conference claimed the most vulnerable children in society were being hit the hardest by council cuts.
These included closures of children's centres and cuts to school support services, the conference was told.
A government spokeswoman said funding was "targeted at the children and young people who need it most".
The NUT says it will work with other public sector unions in a concerted campaign against the cuts.
'Demonstrations'
Phillip Clarke, a teacher from Lewes, said: "What that means is demonstrations, industrial action and doing whatever we can to make a 24-hour public sector general strike a possibility to begin the fight-back against this government."
Other speakers called for concerted action against the cuts "by all means necessary".
And delegates, meeting for their annual conference in Harrogate, heard how the cuts were affecting children and schools in areas across the country.
One teacher in a children's centre in east London, Francesca Haimes, told how 200 years' combined worth of teaching experience had been lost in a wave of cuts in centres in her area.
She told the conference that staff in her team had been reduced from 15 to four. She questioned whether children's centres were now a luxury that could no longer be afforded.
Andrew Baisley from Camden spoke of £20m worth of council cuts in his area.
These included the closure of two children's centres, reduced nursery places, a school improvement service cut in half, and a support service for vulnerable children removed in its entirety.
He added: "These are not the back-room cuts as Gove would have us believe."
Another newly-qualified teacher from Tower Hamlets, in east London, Aisling MacSweeney, told how she had already been out on strike over the cuts in her area.
She said cuts to central services would be making teachers' lives a lot harder in schools. She also said some 200 staff were being made redundant.
Ms MacSweeney encouraged other teachers to stand up to the cuts, adding: "The government will be back for more next year, and the year after, if we would let them."
Earlier NUT President Nina Franklin told the conference members would have to take action to defend their jobs and "any concept of a properly resourced, comprehensive education system."
She said they should draw inspiration from student protests and the uprisings in the Middle East.
A Department for Education spokeswoman said ministers have had to make some difficult decisions to help tackle the budget deficit.
"We want taxpayers' money to be targeted at the children and young people who need it most.
"That's why we have ensured there is enough money in the system to maintain a network of Sure Start children's centres, protected and expanded the free entitlement to the most disadvantaged two year olds, and provided money for local authorities to provide short breaks for disabled children."