Parents 'responsible for children's bad behaviour'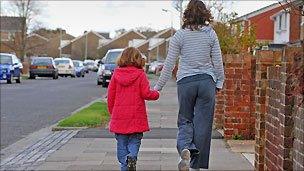 Teachers say that parents cannot "abandon responsibility" for their children's behaviour at school.
The NASUWT teachers' union says a lack of parental support is a major problem behind pupils' lack of discipline.
A survey from the union also claims that pupils turn up at school with iPods and phones, but without basic equipment such as pens.
Schools minister Nick Gibb said the government was boosting teachers' powers to tackle bad behaviour.
The teachers' union, meeting for its annual conference in Glasgow, has published the results of a survey of more than 8,000 members and found many teachers feel let down by the lack of support from parents over behaviour.
More than two in three teachers identified a lack of back-up from parents as the most common underlying factor for pupils misbehaving.
"Teachers are not receiving the support they need from parents," said NASUWT leader, Chris Keates.
"Parents can't simply abandon their responsibilities at the school gate.
"Teachers are not receiving the support they need from parents, school leaders or government to assist them in maintaining high standards of pupil behaviour."
More than half of teachers in the survey also complained that too many parents were failing to send their children to school with the right equipment.
"Too many pupils arrive at school with mobile phones, iPods and MP3 players when teachers just wish they would bring a pen," said Ms Keates.
Mobile phones and electronic gadgets were also identified as a cause of distraction and disruption in the classroom.
Teachers in the survey identified other causes of poor pupil behaviour, including a lack of support from their own senior management in schools.
The negative influences of television and media were also blamed by teachers.
The union's conference will debate a resolution about poor behaviour, warning that indiscipline "continues to blight our educational system".
Last month teachers at Darwen Vale High School in Lancashire went on strike over pupil behaviour, claiming they were not given support by senior staff when they confronted pupils.
Addressing the conference, Schools Minister Nick Gibb said that, on behaviour, the pendulum had "swung too far towards pupils in recent years" and government measures on discipline aimed to reverse the trend.
Teachers' powers to search pupils for items such as mobile phones have been strengthened.
"In turn we expect head teachers to back and support teachers in the decisions they take on a day-to-day basis in the isolation of the classroom to ensure that pupils can learn in a safe and ordered environment," Mr Gibb said.
"And let's not forget the role parents have to play in ensuring their children are well-behaved at school and that they too support the school when teachers take action."
The government also wants to preserve anonymity for teachers faced with allegations of misconduct.
It is changing the law to make it an offence for a newspaper or media outlet to publish the names of any teacher faced by accusations of a criminal nature, Mr Gibb said.
"It is also vital that pupils, parents and head teachers all fully understand their responsibilities and realise that there will be extremely serious consequences if a false allegation is made," he said.
Mr Gibb also defended the schools budget, after shadow education secretary Andy Burnham criticised the government in a speech on Saturday, saying schools faced falling budgets.
The schools minister said the coalition government had faced "difficult choices" as it inherited a budget deficit "that was costing £120 million in interest each and every day - enough to build 10 new primary schools, every single day".
He said he was "proud" of the school budget settlement, under which per pupil spending has been maintained in cash terms to 2014-5, as other public services faced cuts.
Mr Burnham had said this means school spending will still fall by 1.1% in real terms over the next four years.
Related Internet Links
The BBC is not responsible for the content of external sites.