'Curry crisis' tackled by college in Bradford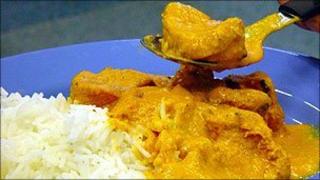 A further education college in Bradford is tackling a "curry crisis" by training chefs to fill a staffing shortage.
Bradford College says that tighter immigration rules have left curry restaurants in the UK struggling to find trained chefs.
It says it is plugging the gap with a range of specialist qualifications for "home-grown" curry chefs.
Local curry chefs from the Bradford area will help with the training.
The college says that it is now harder for curry restaurants to recruit staff from the Indian sub-continent, leaving them with shortages of skilled chefs.
This is of particular concern to a city which says it is "England's curry capital".
'Tangible results'
The college says that it wants to train a new generation of chefs for Bradford and the rest of the country, through its International Food Academy.
"There is a definite crisis," says academy head Graham Fleming.
He says some restaurants have been forced to close because of a lack of skilled staff.
The academy intends to recruit about 50 students initially to train as curry chefs, rising to about 100.
Training will last from a year for basic training, to up to two-and-a-half years for more advanced qualifications.
As well as helping to ensure there are enough chefs for restaurants, the academy will provide a route into work for local young people, says Mr Fleming.
Local MP Gerry Sutcliffe said the academy was a "practical solution to the skilled labour shortage problem, especially curry chefs".
"This is a unique opportunity to build capacity for training in the UK whilst also creating strong partnerships with businesses.
"The Academy model and apprenticeship scheme will boost the UK economy and is a positive step, with tangible results that can be delivered."