Cambridge University: 'A* boosted state school intake'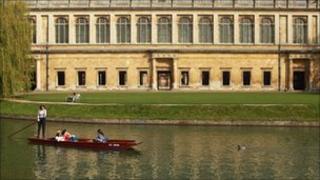 Cambridge University has said its use of the A* A-level grade for admissions helped raise the percentage of UK students from state schools last year.
The proportion of students from state schools offered places in 2010 was 59.3%, 0.8 percentage points up on 2009, according to the university.
But it was still below the 2008 figure and the university's 60-61% target.
Cambridge said the rise came despite predictions that the A* would make entry harder for state school pupils.
The new A-level grade was introduced last year, but most top universities - with the exception of Cambridge and, for some courses, University College London and Imperial College London - continued to use the existing grades as a basis for offering places.
Top universities are under pressure to boost their state school intakes, and have to commit to targets as a condition for charging tuition fees of more than £6,000 from September 2012. Most want to charge the maximum of £9,000.
Cambridge University's own figures - which differ slightly from official ones as they are calculated differently - show 59.3% of students starting in October 2010 were from the state sector, compared with 58.5% in 2009 and below 59.5% in 2008.
Brightest students
Around nine in 10 students who gained a place at Cambridge last year achieved at least one A* and two As at A-level, the university said in a statement.
It chose to include the A* grade in conditional offers in order "to help identify the very brightest students from all backgrounds, after modelling showed that it would have no detrimental impact on widening access", it said.
Dr Geoff Parks, director of admissions for the Cambridge colleges, said the university was pleased with the admissions trends, but there was "no room for complacency".
"Many commentators predicted that using the A* would harm our goal of widening access to the university. Our own modelling showed that it would not, and these results speak for themselves," he said.
Last year, there were fears that the grade would favour students from independent schools, which were able to tutor students more extensively.
Research by the Independent Schools Council concluded that, had A*s been awarded in the 2008-09 academic year, some 36.5% of them would have gone to pupils at ISC schools, even though independent schools educate just over a tenth of sixth formers nationally.
Brian Lightman, general secretary of the Association of School and College Leaders, said the body was "disappointed" last year when Cambridge said it would ask for A* grades in its offers.
"We thought it was premature - the A* had not yet been established, and nobody knew how things would turn out with it," he said.
"Now we recognise that the A* is more established, but... we still think that there is a risk, that by including A*s in the offers, that they [universities] will miss out on some very good students who have only just missed the top grades," he said.
Mr Lightman said it was important to look at the opportunities a student had had and their achievements in education.
Some students may not have managed to get A*s but have perhaps made a lot more progress and clearly have the ability to progress rapidly in the sort of environment a university would offer, he added.
Cambridge University said it had proposed changing the state pupils target to 61-63% of students for admissions in 2012, when the new fees regime begins.
Universities wanting to charge more than £6,000 in fees must commit to an "access agreement" with the Office of Fair Access (Offa).
Proposed agreements had to be submitted to Offa by mid-April, and are currently being assessed by the official body.