Teacher comments 'more effective than smaller classes'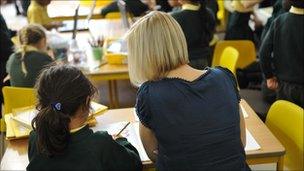 Quality feedback from teachers is more effective in raising grades than homework, uniforms and smaller classes, a Durham University study says.
It is intended to help schools decide how best to spend the pupil premium - additional funds for low-income pupils.
It looks at value for money, saying funding does not always raise grades.
Giving pupils clear and effective feedback was considered "very high impact for low cost" in the study.
Comments should be specific, related to challenging tasks, given sparingly so they are meaningful, and encourage self-esteem by focusing on the positive, the researchers said.
Using pupils to "tutor" each other and helping them understand their own learning processes and motivation also had "high impact for low cost".
The researchers said improvements came when learners took on responsibility for aspects of teaching.
Early intervention - focusing on development in a child's early years - was rated effective but very expensive.
However, one-to-one tutoring was considered to have only a moderate impact for a very high cost, though researchers said it could help children who had fallen behind to catch up with their peers.
Reducing class sizes had a "low impact for a very high cost", and the use of teaching assistants had a "very low impact for a high cost".
The study said there was little gain in cutting class sizes from 30 to 25 - but once they were down to 20, or 15, teachers often altered their approach, which helped pupils learn more effectively.
Teaching assistants work alongside teachers, giving additional support, often to students who are struggling or have special educational needs.
But researchers said evidence suggested "very small or no effects on attainment", although they could positively affect pupils' attitudes and raise teacher morale.
Other strategies, including homework, the use of information and communications technology, after-school programmes, performance pay for teachers and school uniforms, were all rated to have a low impact.
Previous research by the Sutton Trust indicated almost three-quarters (73%) of teachers saw reduced class sizes as a top priority in the use of the pupil premium, and nearly half (44%) wanted more teaching assistants.
Chairman, Sir Peter Lampl, said: "The key to improving the attainment of disadvantaged pupils is not necessarily how much money is spent in schools, but how much is spent on what is proven to work in the classroom."
The National Union of Head Teachers said the report drew some "thought-provoking and useful conclusions".
But it said the findings pointed to a need for smaller class sizes.
"Common sense would dictate that a teacher is better able to monitor progress and give that valuable, detailed feedback where pupil numbers are kept at a sensible level," said Russell Hobby, General Secretary.
"We would hope that the government would not use the trust's work... as an argument to support cutbacks in educational resources," he said.
Schools began receiving the pupil premium - £430 per year extra for every child eligible for free school meals - in April this year.
However, a survey of 1,177 head teachers and deputies, by school support organisation the Key, suggested earlier this year that more than half the schools in England were facing cuts to their budgets.
When the pupil premium is included, ministers have protected per-pupil spending in cash terms until 2015 - but have admitted some schools will see their budgets drop.
Cuts to school capital spending and to the budgets of local authorities - which support some extra services such as after school clubs - have also affected schools' budgets.
Related Internet Links
The BBC is not responsible for the content of external sites.