Cricket 'dream school' to teach lessons of the sport
By Hannah Richardson
BBC News education reporter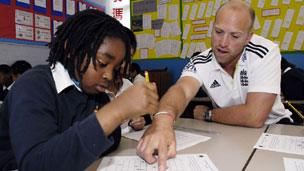 A cricket "dream school", where luminaries of the sport take cricket-related lessons in a range of subjects, is being set up in London for a day.
Governor of the Bank of England Mervyn King and an England cricketer will teach pupils at Johanna Primary School, Waterloo.
Sports Minister Hugh Robertson will take a cricket-themed assembly.
Classes in 4,000 schools in England and Wales will also be given a cricketing twist, on a "national day of cricket".
Organised by the Cricket Foundation's Chance to Shine campaign, the day, on 23 June, will also feature coaching sessions in school playgrounds and competitions at local clubs.
The charity has devised a range of cricket-based lessons in subjects ranging from geography to citizenship and numeracy.
A member of the England cricket team, still to be announced, will take pupils for a physical education class.
And Mr King, who is president and co-founder of the campaign, will give pupils cricket-themed lessons in maths.
He said: "It's a day on which we hope that the qualities engendered by cricket can extend beyond the cricket pitch and into the classroom."
England captain Andrew Strauss said: "There's so much about cricket that prepares you for life - working in a team, communicating with other people, getting out and being active and learning how to win and lose."
Events on the day, sponsored by Brit Insurance, will also feature at schools in other cricket-playing nations, including some in Mazar-i-sharif in Afghanistan and Victoria, Australia.
Related Internet Links
The BBC is not responsible for the content of external sites.