Ignorance expensive, warns UCU lecturers' union head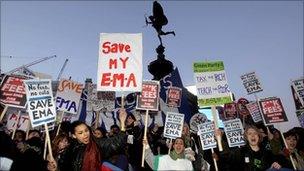 The UK could become "yesterday's country equipped with yesterday's skills" if education cuts continue, the UCU lecturers' union leader has warned.
Sally Hunt told delegates at the University and College Union's annual congress that "it is ignorance that is the expensive option, not education".
The funding cuts come as UK graduation rates are dropping below those of many international rivals, she said.
The government says higher tuition fees will bring a rise in university income.
The University and College Union has been strongly opposed to the government's decision to allow universities to raise undergraduate fees to between £6,000 and £9,000, as teaching grants are cut.
Ms Hunt, the union's general secretary, pointed to the scrapping of the Aim Higher programme, which helped disadvantaged students into university, cuts to English language lesson funding for immigrants, and the axing of the Education Maintenance Allowance.
The government has scrapped EMA grants of up to £30 a week for low-income 16 to 19-year-olds in full-time education, saying the programme was wasteful, and replaced it with a smaller bursaries fund.
The UCU leader said that the coalition government was a "fundamental threat to everything we stand for as educators".
The UCU leader pointed to rankings of the Organization for Economic Co-operation and Development (OECD) countries which show the UK's graduation rate dropping from the third highest in 2000 to the 15th in 2008, overtaken by countries such as Poland and Slovakia.
"When you shut the door on opportunity for our young people you don't just waste lives, you waste money," she said.
"When you weigh the cost of keeping kids on benefit versus giving them a chance in life it is ignorance that is the expensive option, not education," Ms Hunt added.
Universities and Science Minister David Willetts said the government agreed that "education is critical for social mobility and economic growth".
"That is why we are funding 250,000 more apprenticeships over this parliament, improving careers advice and transforming university finance," he said.
Mr Willetts said that, according to the government's estimates, universities should see a 10% rise in teaching income by 2014-15, as raised tuition fees replace funding from government.
"But, crucially, funding will follow the decisions of students so successful universities will thrive," he added.
On Saturday, delegates voted for a ballot on industrial action - targeting university exams and admissions - in a row over pensions.
They backed a motion calling for a ballot on "a major programme of sustained and disruptive industrial action".
The union says pensions changes will leave new staff up to £120,000 worse off.
University employers say the scheme alterations are needed as costs rise because people are living longer.
Related Internet Links
The BBC is not responsible for the content of external sites.