Secondary schools in England given new GCSE target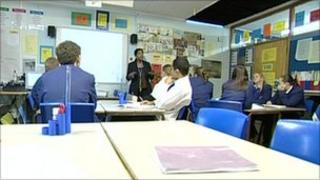 Secondary schools in England are to be set a more ambitious target of securing five good GCSE passes for at least half of their pupils.
Education Secretary Michael Gove is to make the announcement in a speech in Birmingham on Thursday.
He wants to end what he claims is a low expectations culture in some schools.
Mr Gove will also reject accusations from Labour that his academies programme is solely focused on successful schools.
At present a school is assessed as under-performing if fewer than 35% of pupils get five GCSEs at grades A* to C, including maths and English and if children are failing to make the expected level of progress in English and maths.
Raising the bar
But Mr Gove believes the bar for the GCSEs benchmark should be raised to 50% by 2015.
Last year 870 out of the 3,000 secondary schools in England fell short of that benchmark.
This new target would require the worst-performing secondaries to bring their results up to the level currently achieved by the average school.
Those which fail could be taken over by a successful neighbouring academy, a policy introduced under the last Labour government.
The government said, however, that it would retain the "progress measure" element of the so-called "floor target" by which schools are judged to be underperforming.
This states that if a higher-than-average number of children in a school are making the expected amount of progress in English and maths, given their attainment when they start secondary school, the school would still not be classed as underperforming even if its GCSE results fall below the bar.
On Wednesday the schools watchdog, Ofsted, said that 6% of primary and secondary state schools inspected this academic year were found to be inadequate.
This was slightly down from 8% the previous year, despite the fact that Ofsted has been concentrating its inspections on schools previously rated satisfactory and inadequate.
However, a total of 322 schools were in "special measures" at the start of April, up from 291 a year earlier.
In his speech, Mr Gove will argue that Britain and the rest of Europe need to accelerate the pace of educational improvement to compete with successful economies, especially in Asia.
He is expected to propose raising the benchmark to 40% in the 2012-13 academic year and to 50% by 2015.
'Negative impact'
Christine Blower, general secretary of the National Union of Teachers, said the move proved the Coalition did not trust schools and teachers to get on with the job.
"Raising the benchmark will have a negative impact on those schools who are trying to raise the achievement of all their pupils, " she said.
"This is yet another ruse to increase the number of schools eligible for intervention and hence conversion to academy status."
ATL comment on Michael Gove's target for 50% of pupils at all secondary schools to get five A* to C passes at GCSE
Dr Mary Bousted, general secretary of the Association of Teachers and Lecturers said: "Can this be the same Michael Gove who criticised Gordon Brown in 2007 saying that 'A decade of top down targets has failed to raise achievement but all he offers today is more of the same'?
She said attainment would be move likely to improve if the government concentrated on offering schools "support and encouragement" rather than "interference and threats".
However, Elizabeth Reid, chief executive of the Specialist Schools and Academies Trust, said it was "right" to have "high expectations of schools".
"Many schools have shown that dramatic improvements in exam performance are possible and are continuing to raise standards. They are proving that all children can succeed, whatever their background," she said.
Schools have long been rated on the "benchmark measure" of the percentage of pupils getting five A*-C grade GCSEs, or equivalents.
The requirement for English and maths GCSE was added to the measure in 2007, because of fears that schools were relying too much on vocational exams to boost their ratings.